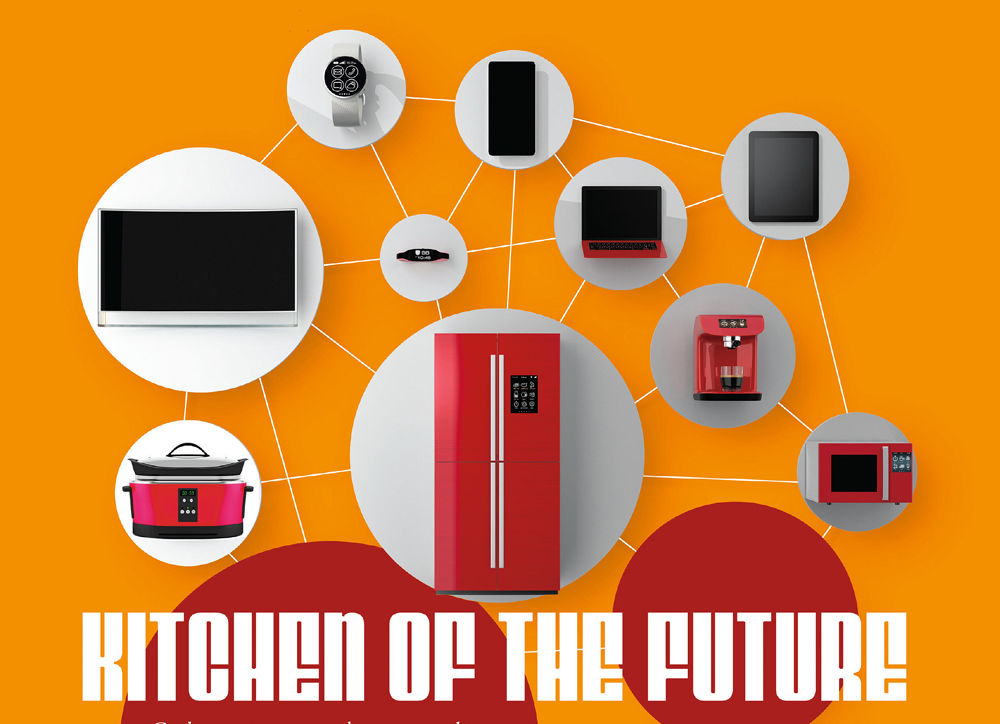 It may sound strange, but we could enter the era of the driverless car before we find ourselves living in homes with kitchens that do the cooking for us. Though many companies are well on their way to proliferating automated vehicles, making a grilled cheese sandwich still seems to require a human touch. However, the age of the tech-enabled kitchen is around the corner, and there are more and more ways to make cooking easier and eliminate the guesswork.
It's easy to overlook, but one of the most recent ways that technology infiltrated the kitchen is the smartphone timer. For those of us who have misplaced or broken wind-up timers of the past, having one in your pocket at all times means that when an egg needs to poach for five minutes, you're not likely to get it wrong.
Google Home and Amazon Echo can be synced to certain smart appliances, allowing users to say "Alexa, preheat the oven" or "Brew coffee," and the gadgets will take it from there. But the machinery hasn't eliminated human error — you still have to mince your garlic, mix ingredients, and not confuse sugar for salt.
Smart speakers like Google Home and Amazon Echo let you search the internet while mincing an onion or cracking eggs into a mixing bowl. They can also help find recipes and read them to you, convert measurements from metric to English, help maintain shopping lists, and tell you how many tablespoons are in half a cup. And, if you overcook your fish or your souffle doesn't rise, you can order takeout using your smart speaker and apps from companies like Wingstop and Pizza Hut that are partnering with e-commerce giants.
However, some innovations in food technology are best utilized outside the kitchen. The dream of zero-effort cooking is like the The Jetsons TV show from the '60s, where one pushes a button and a robot plunks out a fully prepared meal. As many food fanatics know, some types of cooking don't demand a ton of attention once the ingredients are assembled and the heat is turned up, and sometimes the biggest requirement is the minding and monitoring.
Barbecue is one good example of this ultra-slow approach. Some preparations stretch into eight- or 12-hour marathons on low heat, where half the fun may be sitting in the yard nursing a beverage and chatting with friends. But for those who prefer to watch the game inside, take a nap or read a book in the AC, grill-gear companies have come up with a futuristic solution. Weber has introduced a line of digital bluetooth-enabled iGrill tools that bring the once-primitive ritual of charring meat over an open flame into the 21st Century. These tools include a digital probe, a monitoring station, and a smartphone app to ensure that your pork shoulder doesn't get hotter or colder than it should. Insert the probe into the meat you're cooking or smoking, and you can receive progress updates on your phone or wireless device. The iGrill mini starts around $30, and more elaborate bundles of probes and displays are available.
Another way to gently modernize your kitchen is to get a few other small gadgets that make everyday tasks a little easier and more precise. Perfect Bake Pro and Perfect Drink Pro are smart scales that communicate with apps on your wireless device, turning baking and drink-making into a user-friendly experience. These cost between $70 and $100, depending on the configuration.
And, of course, if you can get smart scales and smart coffeemakers, you can buy smart ice cream machines and smart deep fryers, and smart versions of just about any other appliance you might use in the kitchen.
Technology and the internet have transformed the way we cook beyond just the tools we use. As any home chef can tell you, sometimes the hardest part of cooking is the decision-making process: Should I make deep-dish pizza, Thai curry, or a French seafood stew? Many home cooks want the guesswork taken out of the process.
Meal kit services like Purple Carrot, Green Blender, and Blue Apron all offer variations on the idea by delivering the ingredients in the pre-apportioned amounts with detailed instructions. The kit services eliminate the planning and shopping from the equation and allow users to focus on the cooking—which is exactly what many people want. The cost works out to around $12 a meal, depending on the plan. That's not a huge savings from takeout, but if these services make getting into the kitchen—chopping, sautéing, and stirring—less stressful for aspiring cooks, they may be worth considering.
EDITOR'S NOTE: Portions of this story originally ran in W-S Monthly's sister publication, Spark magazine.
Be the first to know
Get local news delivered to your inbox!