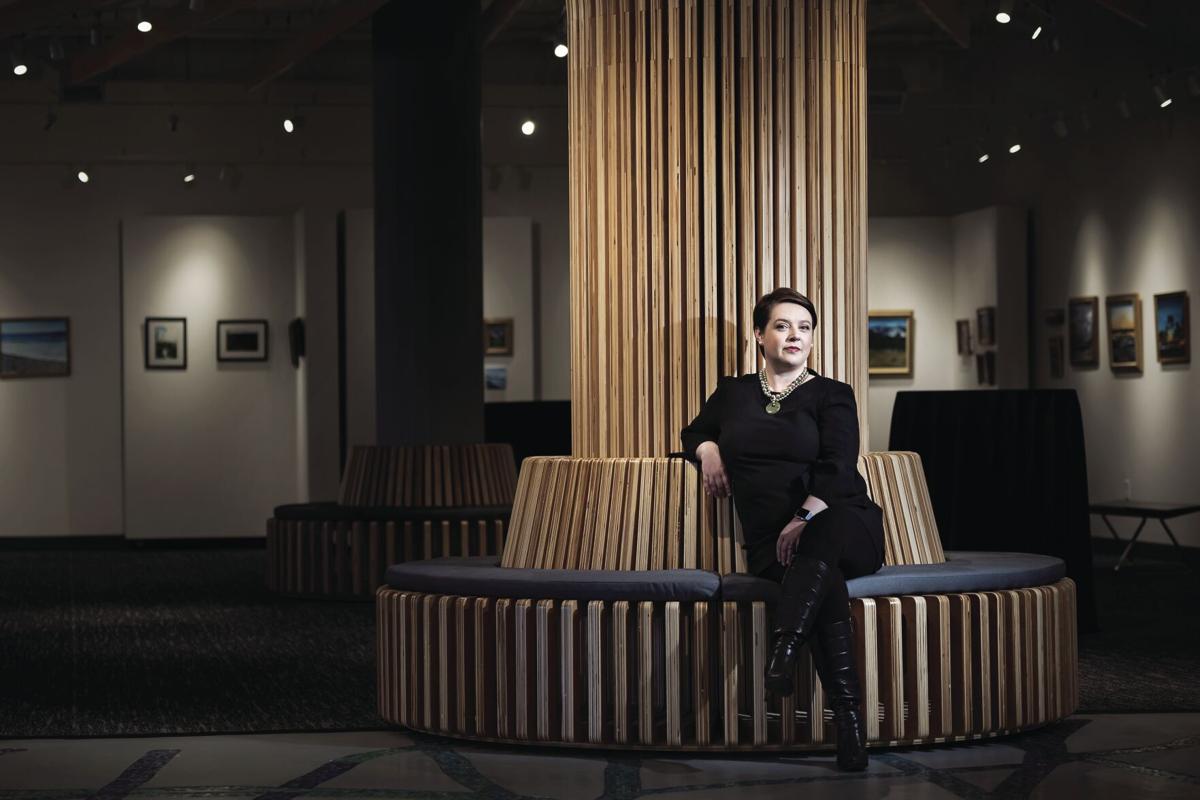 In her first job as an arts administrator, Chase Law got to see up close the impact that the arts can have.
Law is the new president and chief executive of the Arts Council of Winston-Salem and Forsyth County, but in 2003-2004, she was working with the children of people who were being treated for drug addiction in an outpatient program in Charlotte.
"We got them to do self-portraits," says Law. "In the first week, the portraits were dark, angry, sad, but by the end of the program, they were bright and happy.
"There was laughter, and they talked about the changes in their parents and the changes in them. As their parents healed, they healed through the visual arts project."
Law, 45, came to the arts council on Dec. 1 from the Blumenthal Performing Arts Center in Charlotte where she was vice president of development. Her husband, Ron Law, recently retired as executive director of Theatre Charlotte. They have a 16-year-old daughter who will attend Reynolds High School.
Law is a 1997 graduate of High Point University, with a bachelor's degree in Theatre Arts – Performance/Acting, and a minor in music.
She was in New York working as an actor when 9/11 happened. Already dissatisfied with her acting career, Law started looking for other ways to work in the arts and discovered philanthropy.
"I was sure I could raise money to help keep the arts alive," she says, and dove headfirst into arts administration. "I had definitely found my calling."
Law sees the coronavirus pandemic, like the tragedy in New York City, as time for a reset.
"This area is culturally rich, and this pandemic is an opportunity to look at where we've been and retell our stories," she says. "Advocacy and awareness are a big piece of that. I want to be sure we are telling our stories and advocating the right way."
Peggy Reingold, a senior consultant in community relations at Wells Fargo, is on the arts council board of directors.
"Chase brings a fresh perspective to this job," Reingold says. "What we need is somebody who can lift their heads above the fray and see the broader view.
"The arts council will continue to be relevant, but it will be relevant in a new way."
Reingold said that Law will be able to understand the next generation of donors who expect to see a direct relationship between their money and what it does.
"To have someone in that new generation who is able to think about funding in a different way will be really beneficial to us," Reingold says. "Chase is very strategic, and she'll be able to … help us get where we need to be."
What has the COVID-19 taught you?
It's helped me appreciate co-workers and the camaraderie that comes with that. On the flip side, I've enjoyed the time with my family. My daughter and I have cooked together and had a lot of laughs.
I have a hard time taking a break, but I love to cook. I love to socialize and entertain, and have people over. I love to explore and go to museums and art hops, and I have four cocker spaniels.
What is your advice for women leaders?
I believe in having a fire in the belly and doing something that you're passionate about. If you go after it, it will be good to you.
The Arts Council of Winston-Salem and Forsyth County is at intothearts.org.