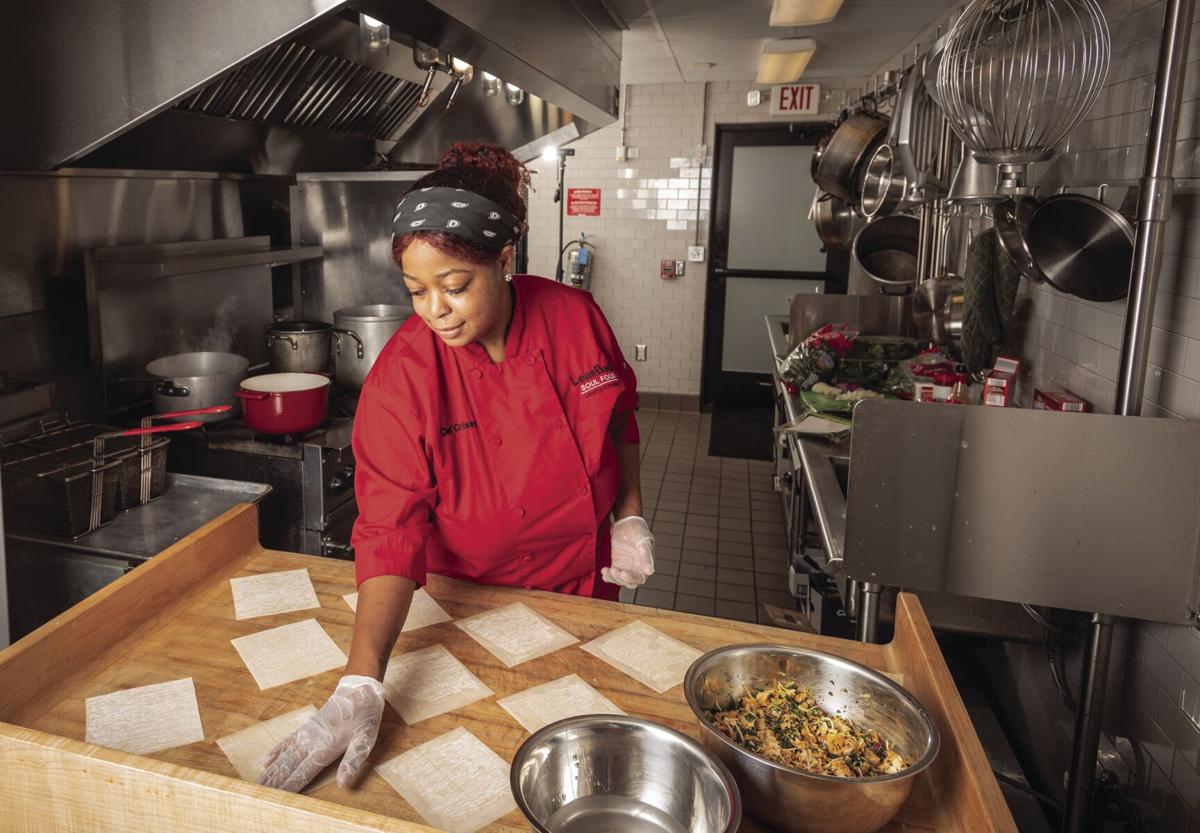 You know that feeling you get when you've had a really good meal?
All you want to do is loosen the belt, lean back and rest for awhile.
That's the premise behind Crissy Faison's Winston-Salem-based catering business, LeanBack Soul Food.
Although she officially started her business in 2016, she has been cooking for others since her college days at N.C. A&T University. The journalism and mass communications major never charged anything for her meals — she just wanted to feed her friends.
"You know how it is, especially in college, you're hungry. The cafeteria isn't that good, and you get tired of takeout," she says. "I never thought of it as a business. It was just something I enjoyed doing."
She lived on campus all four years, but would cook at her friends' homes. As the name of her business suggests, soul food is what she's known for: fried chicken, meatloaf or fried fish, macaroni and cheese and collard greens. In addition to tasting delicious, Faison says, soul food brings people together.
"When you come home from college, it was something your grandma prepared," she recalls.
She also believes that soul food is more of an experience than it is any specific dish.
"All food should nourish your soul and make you go, 'Yum,'" she says.
Since graduating from college, she's worked at numerous places, but struggled to find work in journalism. She continued to cook for others on the side.
Eventually, Faison decided to transition her hobby and side gig into a full time job. She enrolled at GTCC's culinary program but decided it wasn't the right fit.
She knew she wanted to just focus on soul food, and she already knew how to cook it. Instead, she earned a business degree from Wake Technical Community College. She launched her business in October 2016 in Durham, where she lived at the time. A lot of her clients were in Winston-Salem, however, so she relocated.
She also tweaked and expanded her menu. As requests for vegetarian and vegan dishes increased, she began experimenting with how to add her own signature spin on them.
She doesn't season her food with pork. Instead, she uses a variety of spices. Her smoked turkey wings, for example, are prepared with liquid smoke. She also uses smoked turkey to season other dishes.
"I cook with way more than salt, pepper, garlic and onion powder," says Faison, who likes to discover spices from other regions of the country.
She also relishes special requests, like gluten-free Chicken Alfredo.
"Sometimes it does take a little research, but it's no problem. I can do it and put my own LeanBack twist on it," she says.
While the pandemic impacted her business, postponing many big weddings until 2022, Faison still caters weekly for small gatherings of friends and family. She has no desire to open a restaurant but hopes to venture out with a food truck.
"I love to go, 'Come and get your food,' and leave," she says, with a laugh.
The best thing about her job: the look on people's faces when they take that first bite.
"I love to watch people eat my food," she says. "I watch for that first reaction."