Winston-Salem and track athletes all over the state are lucky David Shannon loves to run and hates the cold. JDL Fast Track wouldn't exist if he didn't.
"For him, cold weather defines anything under 70," says Craig Longhurst, who manages facility and can make fun of the boss because Shannon is also his father-in-law. "It just started as, 'Hey let's find a warehouse and put a track in it so I have someplace to run in the winter.'"
In 2012, Shannon, the president of real estate developer JDL Castle Corporation, did just that, buying the old Jostens Yearbook factory in an office park west of the city. The bones of the factory are still there. Without its signage, JDL Fast Track could easily be mistaken for a warehouse. Inside, the 105,000-square-foot space is ringed with steel support columns and features a low profile—factors that have limited it to track events thus far.
That's enough, however. Shannon's vision was clearly more than just a large, heated personal gym. Otherwise, he wouldn't have covered the track with Mondotrack FTX, the same surface used at the 2012 Olympic Games in London. Nor would he have built field event areas, include two pole vault runways, two long/triple jump runways, one high jump apron, and one throws area. The place was designed for serious competition.
A quirk in the NCAA's track-and-field rules helped it get there. Because indoor tracks vary here in the U.S. as opposed to Europe, where all indoor tracks are banked 200-meter ovals, the NCAA uses a conversion formula to make all times uniform. JDL Fast Track times get favorable conversions because the track isn't banked. Flat turns are more difficult for runners, and the tradeoff is more time shaved off by the NCAA. Athletes gunning to qualify for the NCAA championships come from all over for JDL's signature event, the Camel City Elite, which is set for Feb. 4 this year.
"We had New Mexico and Clemson universities come last year," says Longhurst. "Arkansas came this year, and they have their own 200-meter banked track on campus. It's kind of interesting to see the dynamics of it."
The event, which Longhurst calls "our Super Bowl," features up to $60,000 in prize money and also attracts Olympic-bound athletes. Last year, for instance, the Camel City Elite's mile race was dominated by Matthew Centrowitz, who, at the 2016 Olympic Games in Rio, won the first 1,500-meter gold for the U.S. since 1908.
As a result of the big-name athletes and myriad events, JDL Fast Track has had a major impact on tourism spending in Winston-Salem, which hit a record high of $809.3 million in 2016. The track works closely with Visit Winston-Salem to attract local, regional, and national events. A recent Winston-Salem Journal article partially credited the track for the recent hotel boom in the Hanes Mall area. Two hotels are planned in the area—including a 108-room Residence Inn—boosting the total number of nearby hotels to 12.
The biggest JDL Fast Track beneficiaries, however, are high-school teams, which, like the colleges, come from all over. The only other indoor track facility in the state is UNC's track in Chapel Hill. Longhurst said the only way that most prep track teams could compete in the winter was hosting indoor events outside, which posed obvious problems. "If the meet was scheduled for Monday and they wake up that morning and it's 35 degrees and windy, they move the meet to Tuesday," says Longhurst. "And if the forecast is bad for Tuesday, they move it to Wednesday."
Now, they flock to JDL Fast Track for meets. Longhurst said from the end of November to late February, the track hosts an average of 40 prep events ranging from open invitationals to conference meets to competitions pitting one school against another. Among the amenities is a concession area featuring a Panera Bread kiosk serving sandwiches, bagels, espresso, smoothies, etc. There are also hospitality areas on the second level of office space, including areas with windows overlooking the track, along with a raised mezzanine for announcers and officials. The track's audio/video system features five high-definition projector screens for results as well as video playback. And the track features fully automatic timing results, thanks to its FinishLynx timing system.
"When we started out, we thought we'd be doing just weekend invitationals," says Longhurst. "We quickly started scheduling weeknight meets. The Forsyth County schools didn't want to do [outdoor] meets anymore. Who wants to sit on cold aluminum bleachers when it's 45 degrees outside?"
Schools from Guilford County, Stokes County, Watauga County, Charlotte, and Raleigh also either host meets or compete regularly at the track. Longhurst says coaches have told him that the facility has helped boost the number of kids running track.
Thousands of athletes of all ages now use JDL Fast Track, which is celebrating its fifth anniversary this winter. Turns out that Shannon is far from the only runner who prefers a climate-controlled track during the colder months. Thanks to him, they have a good one.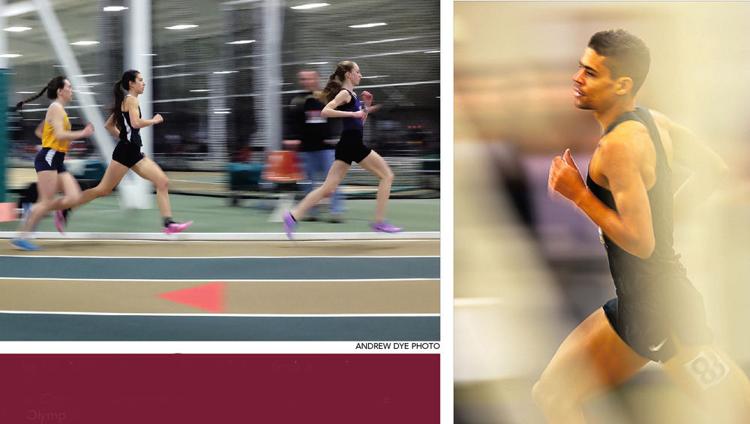 The JDL Fast Track is at 2505 Empire Drive in Winston-Salem. For info on the schedules, records, rentals, and this month's Camel City Elite Races, call 336-722-2033 or go to jdlfasttrack.com.
Be the first to know
Get local news delivered to your inbox!