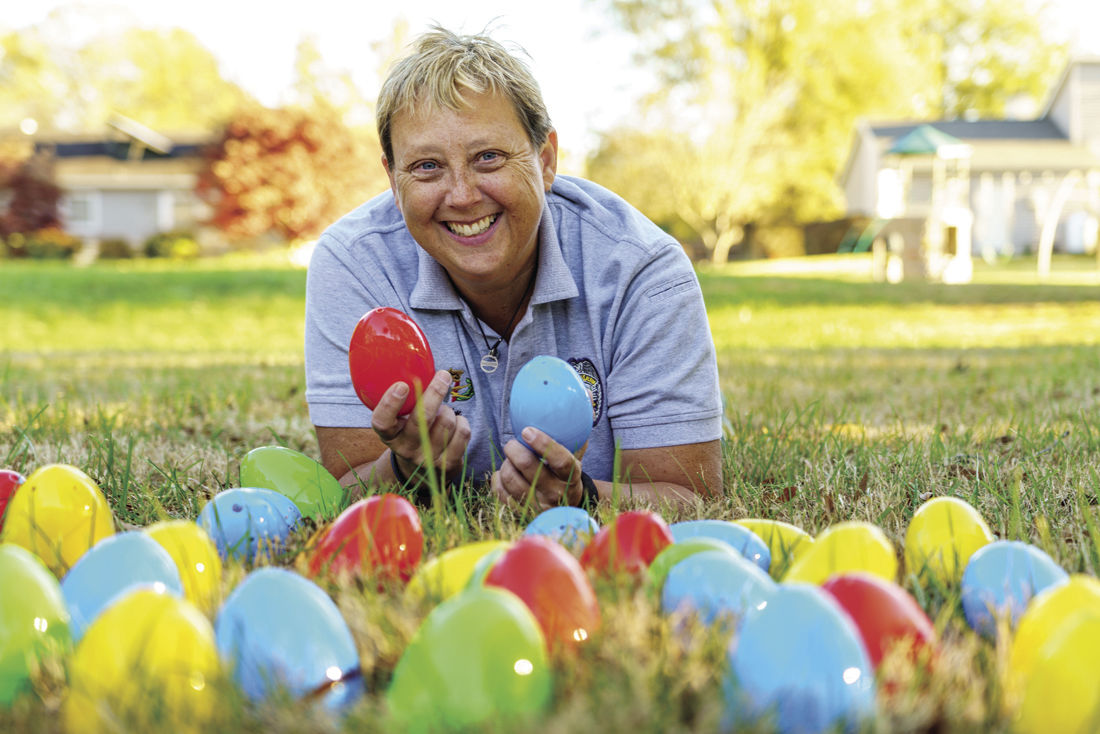 In a time of the year focused on new beginnings, it's important that some parts of our community aren't changing—like the ninth annual "Beeping Easter Egg Hunt for the Blind and Visually Impaired."
The event is made possible by the Winston-Salem Police Department's Hazardous Device Unit, or Bomb Squad. Angie Swaim, commander of the bomb squad and a 20-year WSPD veteran, has been involved since the event's inception in 2010.
In fact, you might say she was there when the idea was hatched.
During a conference of the International Association of Bomb Technicians and Investigators (IABTI) in Alabama, a local bomb squad member shared how his blind daughter motivated him to create a beeping Easter egg. This father's passion became The Rachel Project, and the folks in attendance at the conference, including Swaim, made a batch of beeping eggs. Once they returned to Winston-Salem, Swaim and others felt that holding a beeping Easter egg hunt was something they could do locally.
"It's something we could bring here to members of our community who don't get a lot of attention," she says. "We made about 100 eggs and held our first egg hunt at Reynolda Village, and it's grown ever since."
The bomb squad takes the beeping egg hunt to the Governor Morehead School for the visually impaired in Raleigh, to the NC Lions' Camp Dogwood on Lake Norman several times each summer, and to a regional Braille Challenge competition in February.
The eggs are made from plastic Pop Rocks eggs that hold candy and stickers. Once the contents are removed, a hole is drilled in the bottom for the switch, and holes are drilled in the top to allow the sound to escape. A 9-volt battery is used to power the eggs, and as long as they aren't accidentally squished during the hunt, they can last up to two years. It costs about $7.50 to construct an egg, and Swaim often buys them—as well as treats—to give out at the events. She estimates that the bomb squad has made more than 3,000 beeping eggs to date.
"It gets expensive, but it's OK. It's what we do. The parents are so thankful that they have an activity their kids can do that's just for them," she says. "We have a core group that's come since our first event. We've seen them grow up, and they still get so excited for it. All they talk about are the beeping eggs, and it makes us feel good to bring smiles to their faces."
This year's beeping Easter egg hunt will be May 11 at Reynolda Village. The bomb squad's truck, robot, and more will be on display, and other activities, such as a pony ride from Red Dog Farm and a raffle of educational items from Kaplan Early Learning are often part of the festivities.