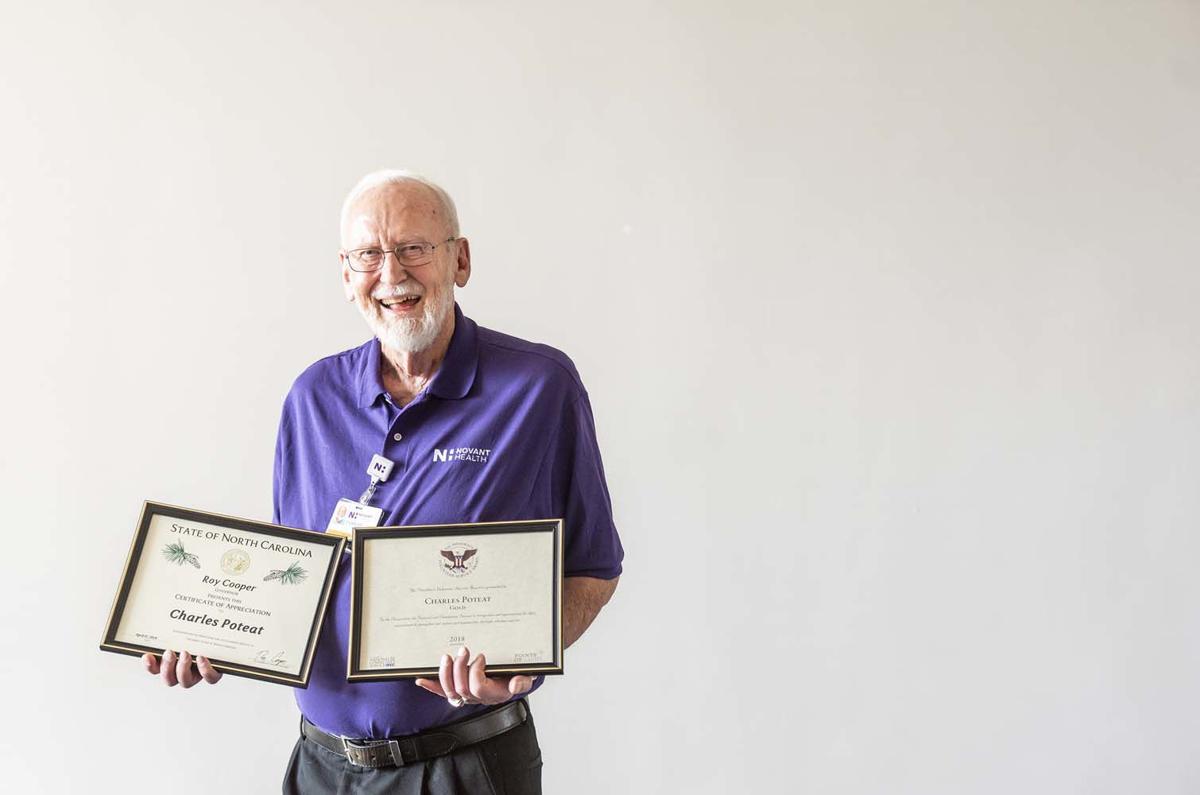 Several times throughout the course of our phone call, Charles Poteat's voice cracks, and a sob catches in his throat. But each time, he collects himself and continues on with his story.
He might just be the most empathetic person in the Triad, which is a great attribute to have when you volunteer as a greeter at Novant Health Forsyth Medical Center five days a week.
"There are so many people hurting that come through that front door. We do a lot of cancer surgeries," says Poteat, 80. "They need encouragement and someone to give them restoration of their faith."
Five years ago, when Poteat left his lifelong career in law enforcement, he was motivated by friends who also volunteered as hospital greeters. Poteat and other greeters are the first people patients see when they enter the hospital. It's their job to help check them in and see them to the appropriate floor.
This is an important job given the amount of fear and uncertainty a lot of these patients harbor upon arrival at the hospital.
"I think God put me here for a reason to help those who need help. So many come in despondent and don't have hope," Poteat says. "I try to do something funny that will make people laugh."
Poteat volunteers Monday through Friday from 6:30 a.m. to 1 p.m., and earlier this year he received a Forsyth County Governor's Volunteer Service Award for his dedication. But it's been a big year for Poteat as he's also received two additional awards for his level of volunteerism, including one for his involvement with the local Lion's Club.
"We do a lot to help blind people; we collect can tabs and raise money for dogs to work with them," Poteat says. "We also do volunteer work helping out in disasters."
While he also volunteers with Habitat for Humanity, nothing quite compares to the impact he makes as a hospital greeter.
"I've seen thousands [of patients] probably, and they come back from time-to-time," he says. "And they never forget me."
To learn more about volunteer opportunities in Forysth County, visit handsonnwnc.org.