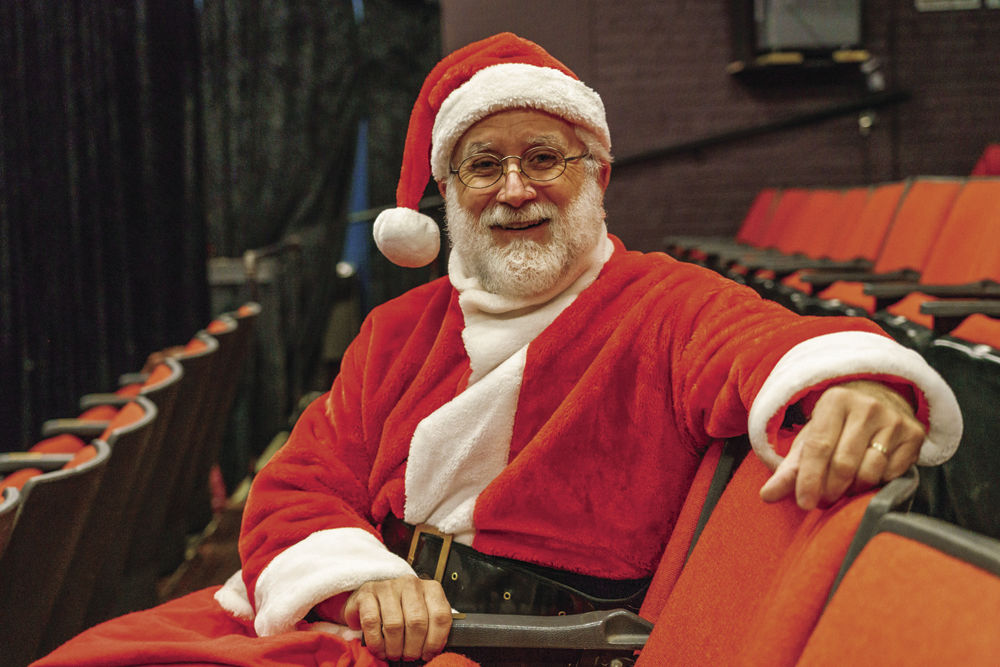 Mark Walek's deep belly laugh reverberates around the empty space at Winston-Salem Theatre Alliance. With his white hair and beard and metal-frame glasses, it's almost as if he's already channeling his next role: Kris Kringle in "Miracle on 34th Street."
Since 2001, Walek has volunteered his time and talent in more than 60 theater performances in Forsyth County. He also builds sets, creates custom signs, works the box office, strikes the set, and recently joined the board of Theatre Alliance. But Walek didn't grow up performing, nor did he go to school to hone his craft. His acting career began as a dare from his daughter, Rene.
"After watching her perform in "The Sound of Music," I enjoyed it so much that I asked her whether it was as fun as it looked and what was the next production. She said "Fiddler on the Roof" was next, then she said, 'Dad, you should audition for it.' I said, 'Me? No way.' "
Walek, who had spent time as a professional trumpet player in a New York jazz band, loved being on stage. He'd also worked backstage in several high-school productions, but he had never considered acting. He finally gave in to Rene, and when his first show was over, "I was hungry," he recalls. "I knew wanted to do it again."
In addition to Theatre Alliance, he's performed at West Side Civic Theatre in Lewisville, Kernersville Little Theatre (with Rene), Stained Glass Playhouse, and the Little Theatre. What keeps him coming back are the relationships he's built with cast members and the welcoming nature of Theatre Alliance.
"They opened their arms so wide, and I felt so welcomed, just like a family. I've been in over a dozen Theatre Alliance shows since that first one, and anytime (Artistic Director) Jamie Lawson needs a sign for a show, I'm the sign maker."
Five of those shows were this year alone, and two of them were what Walek calls "his dream roles."
"Portraying Joseph Pulitzer in "Newsies" was definitely one 'dream role,' " he says. "And the other is the one I'm about to do, Kris Kringle in "Miracle on 34th Street"—even though growing out this beard is killing me!"
"It's funny," he adds. "Once I became a certain age, I thought there wouldn't be any roles left for me, but they keep falling in place. I don't plan on stopping. You'll probably see me in a wheelchair out on stage. I've got to keep doing it; it's in my veins now."
"Miracle on 34th Street" runs Dec. 7-19 at Winston-Salem Theatre Alliance, 1047 W. Northwest Blvd. Tickets are $16–$18. For more details, go to wstheatrealliance.org.