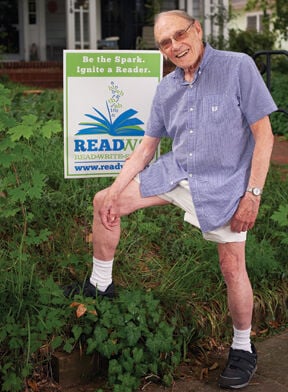 David "Woody" Clinard measures his achievements a little differently.
Clinard, the owner of Clinard Insurance Co. from 1955 to 2007, has worked to improve the lives of people in the Winston-Salem community through a lifetime of service. Be it his 60-plus years in the Twin City Kiwanis Club (which he helped found), supporting Freedom Schools, or delivering food through Meals on Wheels, Clinard has devoted his life to helping others.
Some might view founding and operating a business for more than 50 years the definition of success, but education is by far one of the biggest components of his work.
Clinard has worked with the Forsyth Education Partnership to create and fund the Clinard Innovative Teachers Grant, which provides free supplies for teachers; he has sponsored Planned Parenthood's "Smart Girls" program, which educates teenage girls about their bodies; and he has sponsored Hispanic League scholarships for a decade.
"My focus is helping children and giving them some of the advantages that I've had in life," he says. "I decided that education is the only sure way we can change the world for the better. So many wars, fights, and even diseases are (a lot of times) the result of lack of education."
But his support of education in Forsyth County goes far beyond monetary contributions. For nearly 20 years, Clinard has worked with Read Write Spell, serving as a board member, recruiter, and tutor.
"I asked myself, 'What role can I play in changing the world?'" he says. "I decided to be a tutor. I have one child at a time; we take them out of the classroom and work with them twice a week for about 45 minutes. We try to reach those kids whose families can't afford private tutors."
Clinard also prides himself on being a tireless recruiter of tutors for the program, knowing that getting others involved allows the organization to reach more children and introduce them to the wonders of learning.
"With the ability to read, maybe the teachers these children have will better be able to spark their interest and inquisitiveness, so they'll find out learning can be exciting," he says.
Be the first to know
Get local news delivered to your inbox!