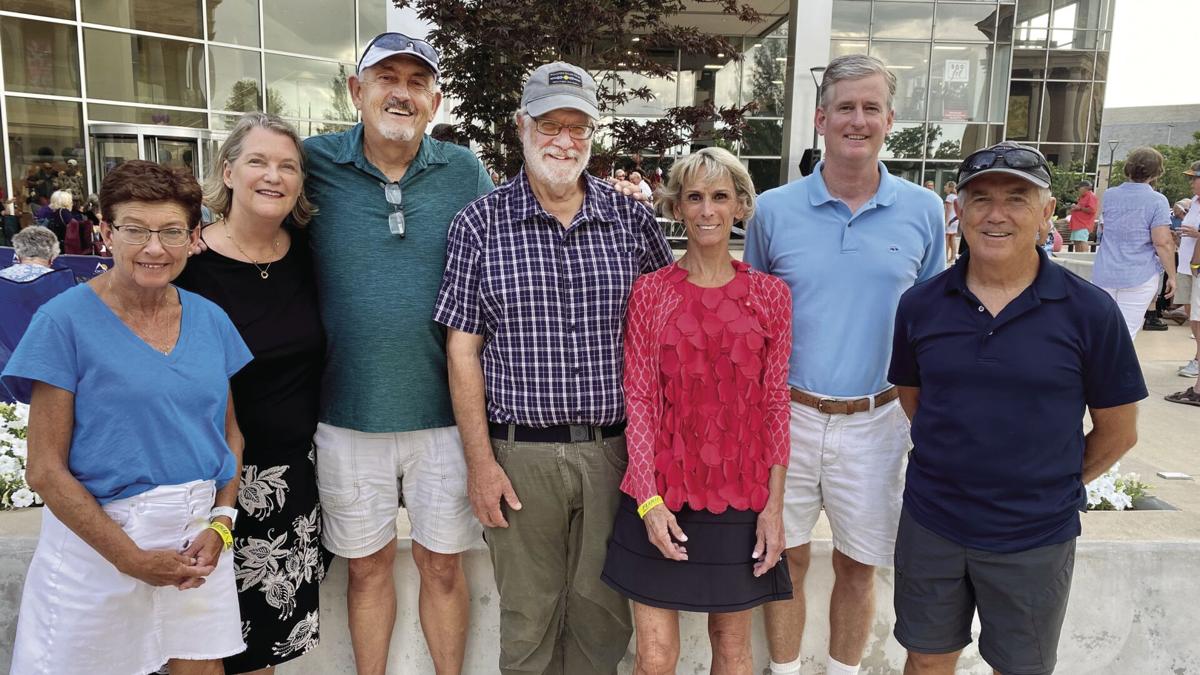 It takes about 500 volunteers to keep the annual Winston-Salem Open tennis tournament running smoothly.
Among those volunteers are nine who lead other volunteers: Randal Blankenship, ushers; Cynthia Carlson, ticket takers; Ann Pate, guest services; Debby Reynolds, hotel hospitality; Doug Roberts, transportation; Melissa Robertson, volunteer services; Herve Roche, ball persons; Alex Rucker, operations; and Martha Sutton, credentials.
Most have been volunteering since the tournament began 10 years ago. (Others are identified below with the year they started.)
Much of the work to make the event a success goes on behind the scenes.
"It is like a swan on a lake that seems to be gliding effortlessly along, however, underneath the water, she is paddling a hundred miles an hour," Debby Reynolds says. "I am always so amazed a grateful to each and every member of my team that will do anything to keep me from sinking."
"I love that I get to be one of the first faces to greet and welcome the excited guests," says ticket-taker leader Cynthia Carlson (2014).
"We take seriously our chance to practice 'Southern hospitality' at its best," says Martha Sutton. "It is very gratifying to greet road-weary players and coaches and have them smile before they leave our office."
"I get to spread the love of tennis and Winston Salem around, and make the usher position enjoyable for all my volunteers!" says Randal Blankenship, who leads 350 ushers.
It's an honor to serve at the tournament, they say.
"This event is so special because it hosts people from all over the world," says Ann Pate (2019). "It represents Winston-Salem and North Carolina in such a wonderful, welcoming and professional way."
"It is special for all the tennis fans in Winston Salem to see world-class tennis in our backyard!" Melissa Robertson says.
"Having the matches in an intimate setting, where you can sit up close to the play, is also a bonus," Carlson says.
"This event brings Winston Salem back to the tennis Mecca it was years ago," Blankenship says. "Back in those days, so much tennis was happening you had to wait two hours for a court at Hanes Park!"
The tournament "not only brings great tennis players to Winston-Salem; it brings together a very large contingent of volunteers from Forsyth County and surrounding counties," says Herve Roche.
The bond among volunteers is a big part of what keeps them coming back.
Doug Roberts enjoys "getting to spend a week with a great group of volunteers each year. It is like a big family."
"I would never have crossed paths with most of my team, and we have been together for over 10 years," Reynolds says. "I look forward to spending time each year with this awesome group of selfless volunteers to catch up on their lives."
At the end of each event, Reynolds says, "I realize I never led anything. I was carried for a week by an amazing group of friends I would have never met if not for the tournament."