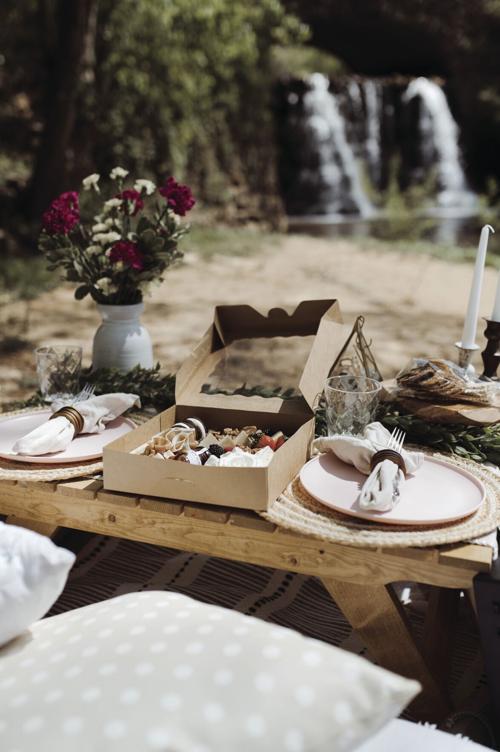 Summer in the South means al fresco dining, and the Winston-Salem area abounds with scenic spots perfect for a picnic.
Whether you plan your own or enlist a planner, we've got you covered with our guide to the best picnic places for everything from family fiestas to romantic candlelit meals.
Reynolda House and Gardens
Built more than a century ago as a country retreat for tobacco magnate R.J. Reynolds and his wife, Katherine, the Reynolda House and Gardens, along with neighboring Reynolda Village, still offer an escape from the bustle of the city.
And while picnics are not permitted in
the formal gardens, traditional blanket picnics are popular near the waterfall and on the Village Green near the boathouse. Adjacent Reynolda Village offers more spots for enjoying a sophisticated picnic experience.
"Reynolda Village has a beautiful courtyard with a fountain, which offers bistro tables and chairs for a more formal takeout picnic," says Jodi Tonsic, director of marketing, Reynolda Village. "This courtyard is in the heart of the building that once served as the cattle shed on the historic estate."
And even if you don't pack your own meal, restaurants in walking distance offer picnic-perfect food to go.
Reynolda Village has numerous restaurants that make for great "impromptu" picnics, such as takeout noodles and dumplings from May Way Dumplings, warm made-to-order doughnuts from Dough-Joe's, delicious sandwich and salad options from Village Tavern, and both savory and sweet crepes from Penny Path Café & Crêpe Shop.
Graylyn
Nearly 100 years ago, Nathalie and Bowman Gray built an expansive home on 87 acres of pasture purchased from R.J. Reynolds. Today, the Graylyn estate serves as a conference center, wedding venue and family picnic destination.
The estate offers picnic packages that include a boxed lunch, drinks, outdoor linens and utensils, and even food for feeding the ducks. Picnics are limited to two hours and the package is available for $20 per person.
Old Salem
Picnickers have long flocked to the quaint colonial setting of Old Salem, enjoying an outdoor meal surrounded by centuries-old buildings on Salem Square.
The grassy block sits at the heart of Old Salem, serving as the perfect place to take in the action — which usually includes period-costumed interpreters and horse-drawn carriages — while enjoying lunch.
And visitors can add a side of history to their picnic with the Salem Pathways self-guided tour. The audio tour is accessible to smart phones via a QR code found on maps located throughout Old Salem.
Visitors can follow the path of a former resident to learn more about life in the village.
Winston-Salem Parks and Recreation
Throughout Winston-Salem, city parks offer many places for picnicking, with more than 50 shelters with tables and seating available for rental from sunrise to sunset. And after lunch, picnickers can enjoy family-friendly park amenities such as playgrounds, walking trails, sports fields and courts, and eight pools.
And picnickers seeking a view can nosh on the waterfront at scenic Salem Lake, which boasts a seven-mile trail around the 365-acre body of water, or Quarry Park, which features an overlook pier and hosts outdoor concerts on its amphitheater stage.
Bethabara Park
Founded by Moravians in 1753, Bethabara was the first European settlement in the North Carolina Piedmont. Nowadays, visitors explore the historic buildings and archaeological ruins, or enjoy a picnic amid the park's 183 acres of wildlife preserves, protected wetlands, and walking and birding trails.
And because Bethabara is operated by Winston-Salem Parks and Recreation, admission is free, and the park grounds are open year-round, dawn to dusk.
Bailey Park
Situated in the midst of the city's Innovation Quarter, Bailey Park's lush 1.6-acre green space is a popular spot for urban picnicking. Visitors pack their own meal or line up at food trucks parked nearby.
And for those looking for dinner and a show, Bailey Park delivers with regular live concerts, outdoor movie screenings and more.
Tanglewood Park
Just a few miles from Winston-Salem in Clemmons, Tanglewood Park has a reputation as a destination for family outings. And for those seeking space for larger picnic groups, the park's shelter 3 has room to spare.
The covered shelter boasts 16 eight-foot picnic tables and two eight-foot serving tables, as well as two grills, trash and recycling cans, electrical outlets and climate-controlled restrooms. Even better? Picnickers can enjoy lunch as they overlook Skilpot Lake or throw a line from the fishing deck.
Daily rental rates for the shelter apply.