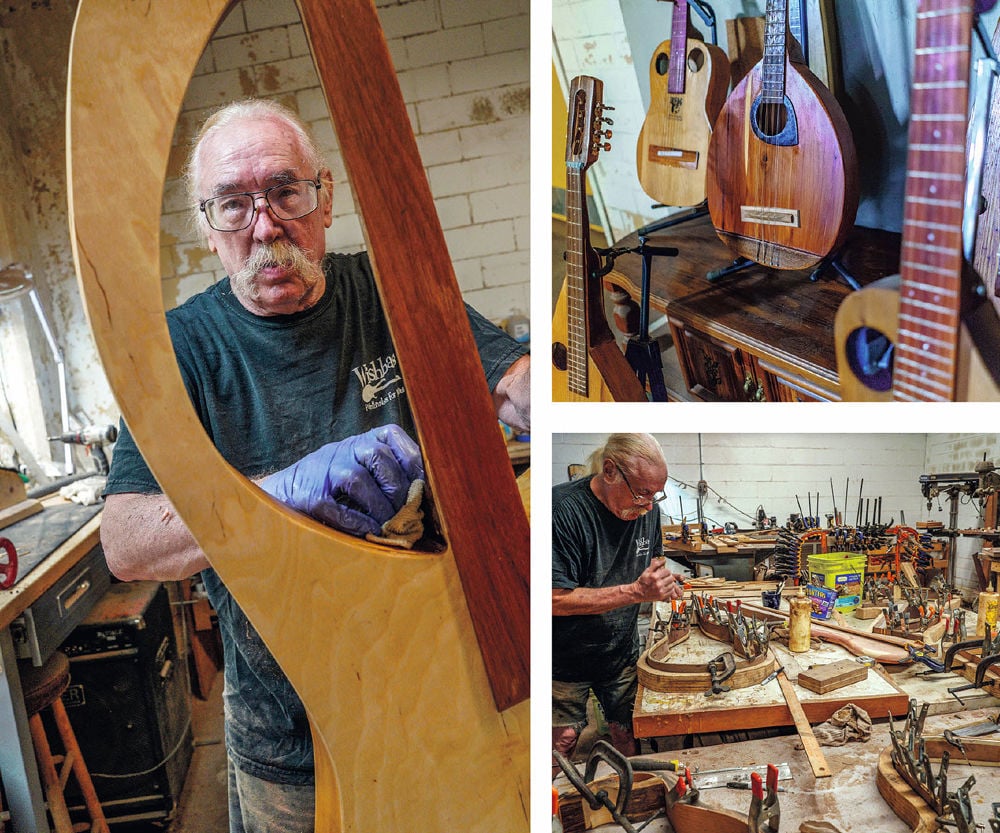 Steve Wishnevsky knows the salaries musicians make—and it's typically not much.
And he knows most musicians aren't looking for a Cadillac of an instrument. They want something that plays well, that's durable, and that's relatively inexpensive.
"Some people make stuff to look good; I make stuff to sound good," he says. "A normal custom bass would be $3,000, but it would be really shiny. Mine aren't really shiny. I sell direct, use as little finish as possible, and people go for it." He adds that a bass made by him might go for $300.
Wishnevsky has been making a variety of stringed instruments since 1973, using inexpensive woods and a no-frills approach in his craft. His creations have a somewhat rustic look, but also an elegant simplicity. The 72-year-old—who's known simply as "Wish" to many—sports a bushy moustache and wears his gray hair pulled back in a ponytail. In addition to being a musician and instrument maker, he's also a prolific writer, having penned dozens of books on topics ranging from sci-fi to the history of the blues.
In his workshop, he attaches a piece of wood to a guitar mold with a series of Irwin Quick-Grip clamps. He never seems to have enough clamps, he says.
On a work table nearby sits what he calls a banana bass. With the curvature of its body and the yellowish color of its Russian Baltic birch plywood, it actually kind of resembles a banana. He taps on it, and it lets forth a few healthy-sounding thumps.
"This one will soon be finished," he says. "I may actually play this one for a while."
A native of Columbus, Ohio, Wishnevsky grew up mostly in Connecticut. He's always been something of a woodworker, building model airplanes when he was little (and making pipes for a time in his 20s). In 1973, he and a friend hitchhiked south and wound up in the Sampson (N.C.) County town of Piney Grove. There he began working for instrument maker Dave Sturgill, from whom he learned his craft. Sturgill, who specialized in dulcimers and banjos, was a bit of a character, Wish says—"a motorcycle gypsy, violinmaker, electrical engineer, pilot, geologist, gun maker."
In the early 2000s, after being laid off from a job as a cabinetmaker, Wishnevsky decided to start his own company, Wishbass. He's been making instruments ever since, specializing mostly in fretless basses.
He's also become an integral part of the local music scene, playing in multiple bands and helping stage various concerts and events. Among them was the Winston-Salem Shuffle, a monthly talent contest that was held for several years at Krankie's Coffee and Community Arts Cafe.
Wishnevsky says the past few years have been some of the most trying—and gratifying—of his career. Things took a dramatic turn in 2015 when his workshop outside his home burned down. The fire, which occurred at night during a snowstorm, caused Wishnevsky to lose about $6,000 worth of instruments (including nearly 30 guitars) as well as his truck. The probable cause was listed as accidental because of a loose flue on a woodstove.
"A lot of my life's work went up in flames that night, just like that," Wishnevsky says. "All workshops eventually burn. Gibson Guitar (Corporation) has burned three times in 100 years. But to see something you own and cherish engulfed in flames…it's hard to put it into words."
Following the fire, several musicians in the area staged a benefit concert to help Wishnevsky get back on his feet, and he used the proceeds to rebuild his business.
These days, Wish operates out of a cinder-block workshop buried deep in the bowels of a former furniture warehouse on Ivy Avenue near downtown. Every surface in the place is covered with a film of sawdust. All around are instruments in various stages of completion. A couple of finished guitars and mandolins hang from a rafter.
In a storage room, he keeps his materials—mahogany, walnut, birch, a piece of chestnut salvaged from a barn, a board that was once part of a piano. His goal, he says, is simply to make light, affordable instruments for the everyday player. He sells many of his works on eBay and garners customers mainly through word of mouth.
"I just found a little niche and have been trying to make it," he says. "You can have an aristocratic [instrument] made with ivory and virgin timber harvested on a sacred mountain, but I don't play those games. People want to believe they can spend $10,000 on an instrument and it'll make them sound better. But what makes the sound is here (waves his fingers).
"It's like having a Bugatti car. You might spend $500,000 on it, but then what are you going to do with it? You're afraid to drive it, because you're afraid of scratching it."
For more information on Wishnevsky's instruments, go to wishbass.com.