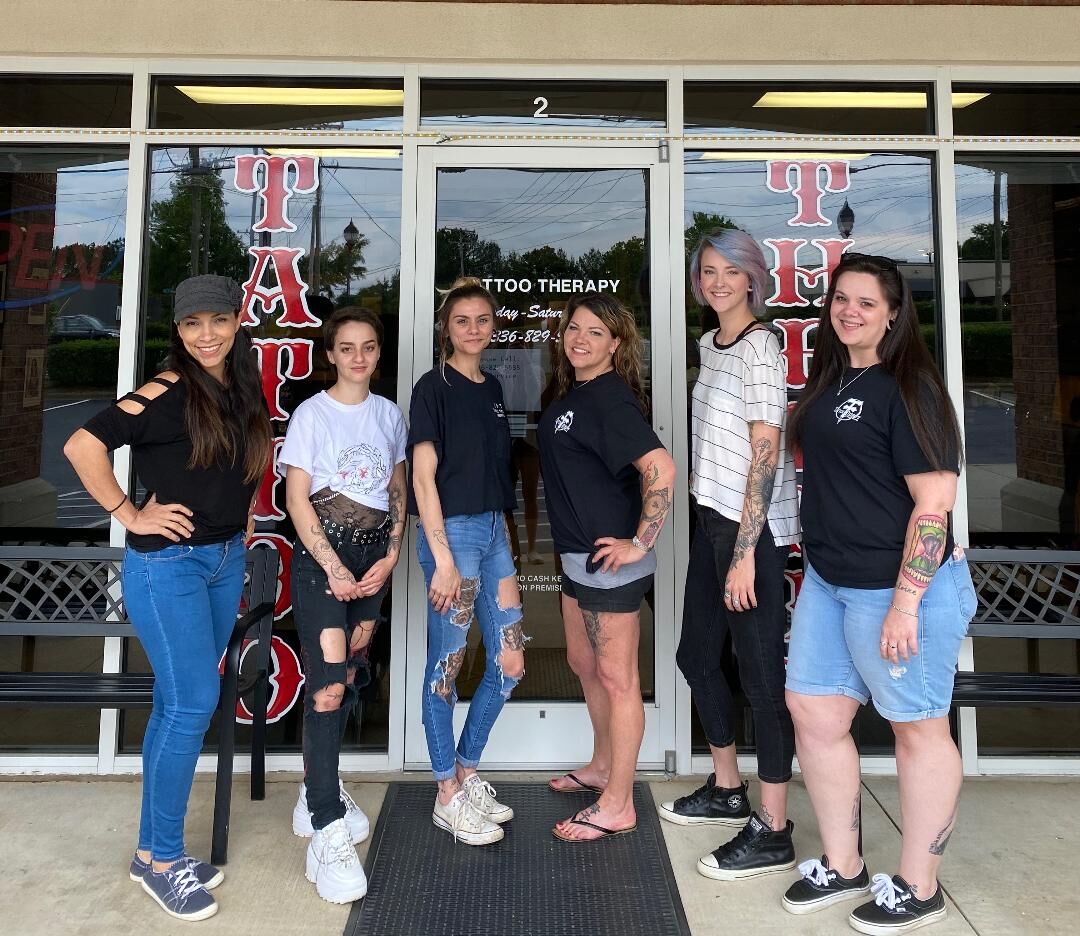 People love art for the way it helps add flair to life, and famous writer, Michelle Delio, once had similar sentiments on tattoos.
"Tattoos have a power and magic all their own. They decorate the body, but they also enhance the soul," she says.
Crystal Ryce, owner of Tattoo Therapy Studio, helps Winston-Salem residents and visitors bring that magic to life in the city's only fully-staffed female tattoo and body piercing shop.
Running a completely female-operated business was always a dream of Ryce's, especially considering the skewed gender demographics of artists in the industry. While the number of female tattoo artists is on the rise, males still significantly outnumber women.
In an unexpected twist, COVID-19 helped Ryce empower fellow minority artists by giving them a rare opportunity.
"After COVID shut us down in [last] March, I had the opportunity to re-evaluate business," she says. "With the advice of a great friend, mentor, and fellow tattoo studio owner, George Peaks, I decided to follow my passion of supporting and encouraging other females in the industry."
Located at 300 Jonestown Road, Tattoo Therapy Studio is much more than a tattoo parlor. In addition to Ryce, the female power team includes Heather Shaw, professional body piercer; artists Karen Peraza, Amanda Boscia, Anna Walker, and Andi Marin; and Charity Fulk, receptionist.
"Each one of these ladies brings amazing talent and a unique personality to the studio," Ryce says. "I've had the pleasure of being able to watch each of my artists grow in the industry and reach goals they never thought possible."
Bringing art to life using the human body's largest organ as a canvas can seem harrowing for a first-timer in the chair, but all of the artists at Tattoo Therapy spend considerable time ensuring the entire experience is a good one.
"It's rewarding to learn the significance behind why people choose the tattoos they do, and to be able to offer the service that stays with them a lifetime," Ryce says. "We've all developed new friendships, shared struggles and success stories, encouraged, and inspired one another."
When she's not running Tattoo Therapy Studio, Ryce enjoys time with her fiancé, Brad, her daughter Hadley, and her niece, Ashley.
Her advice to other women who are striving to follow their own dreams is simple.
"Pray, have a great support system, and remember the best is yet to come," she says. Set small goals. Even a small step in the right direction can be great."