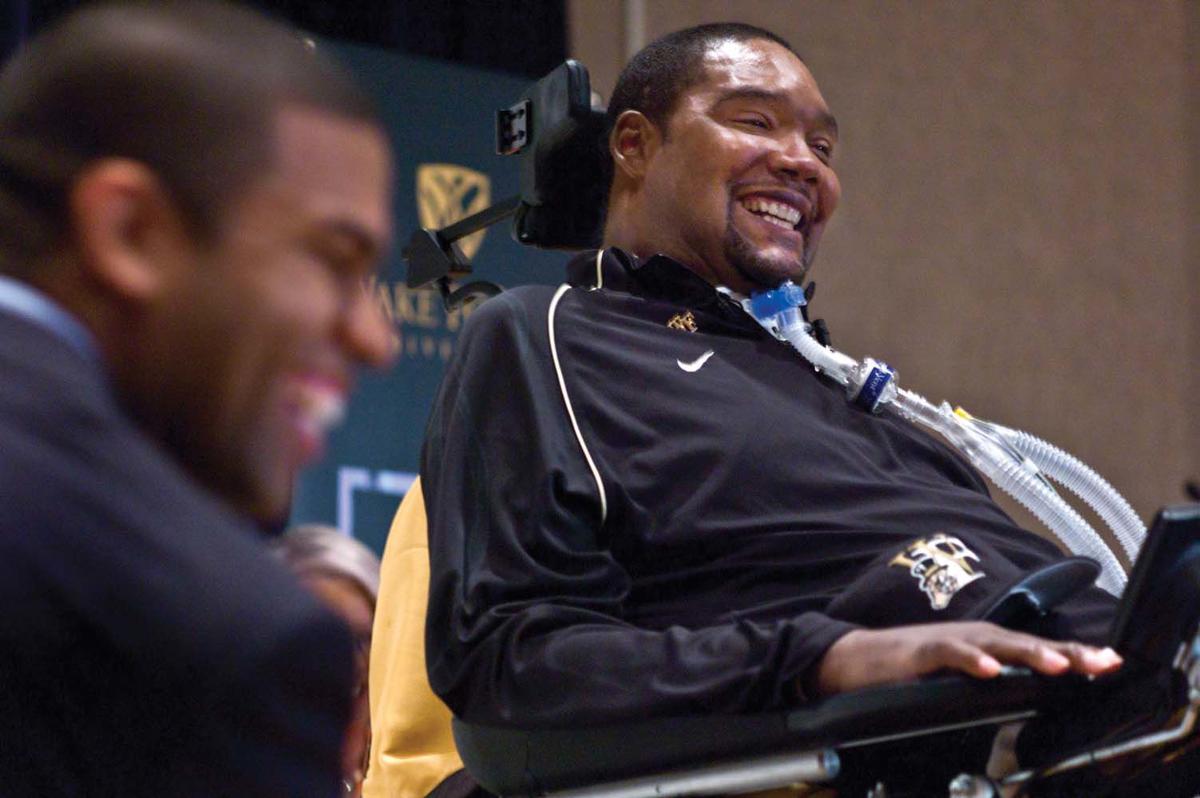 Rodney Rogers has suffered great losses, which is why he has so much to give.
This is the profound irony of the former Wake Forest University and professional basketball star, whose life changed in 2008 when a post-career dirt bike accident in Vance County resulted in a spinal cord injury that left him paralyzed from the shoulders down.
Once known for his herculean physique and explosive athleticism, the 6-foot-7-inch Rogers has been confined to a wheelchair ever since. Doctors have given him just a 5 percent chance of walking again.
Beating the odds, however, is something he's done before. While growing up in the housing projects of Durham, Rogers began learning to navigate hardships most people will never face.
His father, Willie, left the family, moved to Texas, and died when Rogers was only 8 years old. In high school, his mother, Estella, suffered head injuries in a serious car accident, resulting in a two-week coma, memory loss, and the need for extra care. Without parents who could provide for him, he moved in with the family of his best friend, Nathaniel Brooks Jr., with whom he'd spend his last two years of high school.
Rogers, fortunately, wouldn't let the instability of his home life get in the way of his ambitions. After a standout three-year career at Wake Forest — where his retired No. 54 jersey hangs in the rafters of LJVM Coliseum — he played 12 years in the NBA. Then, three years into retirement, the accident.
Hard times followed — times when he wondered if life was still worth living. But as he had done before, Rogers persevered, fighting off doubts and dark thoughts with the rock-solid support of his wife, Faye, and his faith in God. He came to realize that this new adversity didn't destroy his purpose for living, but rather created a new one.
In the hospital following the accident, he remembers looking around and seeing his fellow patients who were fighting similar battles.
"I saw a lot of kids and adults who didn't have the means to afford the things they needed," says Rogers. "Some of them passed away because they didn't have the money."
This experience served as inspiration for starting the Rodney Rogers Foundation. Using donations made to the foundation, Rodney and Faye have given to needy families in the Durham projects and other low-income areas during the past several years, especially during the holidays.
"I was blessed enough to be able to survive, and I'm just trying to return the [fortune]," Rogers says.
When donations weren't bountiful enough to give as much as they would've liked, Rogers opened up his own wallet.
"Rodney's condition doesn't allow us to solicit because he's sick sometimes," says Faye. "We don't solicit; we just run the foundation through his funds and do it that way."
He's also delivered motivational speeches around the country. He recently spoke at the National Basketball Players Association's Top 100 Camp in New Jersey, where he shared with the young players in attendance his own experiences as a professional athlete.
Helping others comes naturally to Rogers, a man who has found purpose in giving after so much has been taken from him. There are still personal goals he wants to achieve, though.
Rogers intends on graduating from Wake Forest University, something he's wanted to do since leaving for the NBA after his junior year. Going back to school presents various logistical issues, but he says he's hopeful they'll be figured out "because I just want to have my piece of paper to say that I graduated from college."
Then there's the daunting challenge of ditching the wheelchair. More than 10 years into his paralysis, Rogers is optimistic that he'll walk again.
Until that day, he'll stay busy doing the things that make life worth living.