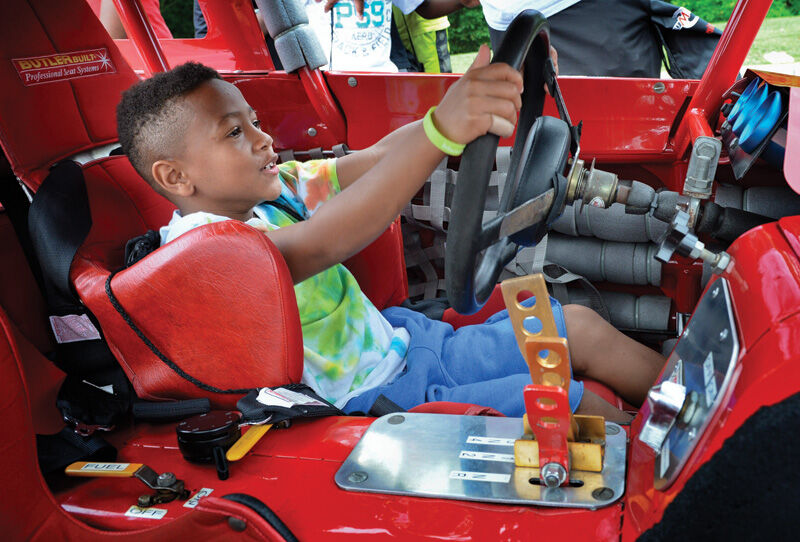 Auto racing is built into  the fabric of daily living for many people in North Carolina — and one of the places that's in the middle of revving up its engines to promote the sport is Winston-Salem State University.
The school is the only public university and the only HBCU (historically Black college and university) to have a motorsports management program in the heart of racing country. The office for motorsports management is in the field house located around turn 4 at Bowman Gray Stadium, where racing has been held on Saturday nights for over 70 years. In addition, the school and motorsports program is in the middle of racing teams in Welcome with Richard Childress Racing, the Charlotte area, as well as large NASCAR tracks in Charlotte/Concord, Martinsville, Va., Bristol, Tenn., and the ZMax Dragway adjacent to Charlotte Motor Speedway.
The mission of the motorsports management program at WSSU is for students to gain knowledge and skills through a real learning experience, on and off the track. At the heart of the experience for the students is NASCAR's Drive for Diversity program that tries to aid minorities and women into an involvement at higher levels of motorsports.
"We are strictly the business side — operations, sponsorship, hospitality, general management, and marketing — in the motorsport industry," says Clay Harshaw, Ph.D., who has run the program at WSSU since 2012 after Travis Teague, who started the program in 2007, left to become dean at Wingate University.
Harshaw says he currently has about 10 students in the program and would love to see the popularity increase.
"We've got a diverse group of students," he says. "It's men, women, anybody that's interested in it. At one point, I kind of laughed and I said, 'We've got the most diverse program of any university program.'"
Despite the proximity to historic Bowman Gray Stadium, some of the students are limited to what officials at Bowman Gray, as well the drivers and their respective race teams, will allow in terms of being on a crew — whether it be driving in a car, working on a car, or helping a team market itself.
"It's kind of a delicate balance there because it's really not part of Bowman Gray," says Gray Garrison, the promoter for Bowman Gray Racing. "It's part of the university."
Bowman Gray is a historic quarter-mile track, but drivers from all over the country know more than that. Now students can know, too.
"If nothing else, they can get the hands-on experience of seeing that this is why they put signs up here. This is why they do this," Garrison says, who had to make the difficult decision of canceling the entire 2020 season because of COVID-19. "They listen to the PA and they see the car sponsorships. They get the feel that there's more to it than making cars go around in circles by getting the visual of seeing what's happening."
Derrick Rice is somebody who has seen both sides of the spectrum in terms of marketing a race team. Rice raced at Bowman Gray, was part of the WSSU program with Harshaw, and last won the Street Stock Division title in 2016.
"Here in the last year it has become more diverse. A lot of people of different ethnicities other than white are starting to pay attention," says Rice, who graduated in 2017 and is now a sports marketing teacher at Mount Tabor High School. "I feel like it's going to become more of a kind of gem toward the institution because it's a gateway for kids to get in there and to understand, A) what the product is, which will be the car and the racing, and then, B) how to run it, how to utilize your resources, have the right business model, and things like that."
One thing that created some buzz for the motorsports program at WSSU is that NASCAR driver William Darrell "Bubba" Wallace Jr., the only Black driver in NASCAR, has elected to drive next year for new car owners Michael Jordan and driver Denny Hamlin.
"I'm hoping there could be some positive effects for us," Harshaw says. "I'm hoping that we can connect our students with their team for field experiences and internships."