From a back office on the third floor of the Center for Design Innovation, just south of downtown Winston-Salem, Dave Goren and his team of interns are hard at work inside the temporary headquarters for the National Sports Media Association & Hall of Fame (NSMA). Together, they're piecing together a video of the most iconic play-by-play calls in sports history, many of which are instantly familiar:
"Down goes Frazier! Down goes Frazier" (Howard Cosell, 1973)
"I don't believe what I just saw!" (Jack Buck, 1988)
"Do you believe in Miracles? Yes!" (Al Michaels, 1980)
For Goren, who serves as the NSMA's executive director, the clips are more than just defining moments in history. They're proof of the power of sports media and the kind of lasting impact it can have.
"Media has the ability to connect sports and fans," he says. "The [journalists] aren't playing the game, but they are helping paint the picture. They're the storytellers, the conduits. A lot of sports fans think of them as friends; as family even."
Goren knows this as well as anybody. He spent 20 years as a local sportscaster at WXII 12 News, becoming one of the region's recognizable on-air personalities, before being laid off in December 2008. Two months later, he was named the N.C. Sportscaster of the Year by the NSMA. "It was quite the irony," he says with a laugh.
Upon accepting the award, he got wind that the organization was in need of an executive director. After some deliberation, he decided to apply for the job and was hired in 2010. He's been with the NSMA ever since, recently leading a charge to relocate the group's headquarters from Salisbury—where it's been since its 1959 inception—to Winston-Salem.
Having officially moved to town, Goren and others are now preparing for the 59th annual NSMA Awards Ceremony & Banquet, set for June 25 at Joel Coliseum. The ceremony will serve as the finale of the three-day NSMA Awards Weekend, which was held in Winston-Salem for the first time in 2017. The occasion brings dozens of sports media figures from across the country together for a weekend of parties, seminars, panels, and other events that are held at venues throughout town.
To mark the occasion, we decided to take an in-depth look at the NSMA and the upcoming awards weekend, letting Goren give us the rundown.
Q. What is the National Sports Media Association?
In short, the NSMA is the oldest known organization in the United States that celebrates sports media. It's also the only known entity that unites the two crafts of sportscasting and sportswriting. In addition to holding an awards ceremony each June, the NSMA seeks to nurture a new guard of sports journalists through educational opportunities, networking, internships, and scholarship programs.
The group operates as a nonprofit organization and is governed by a board of directors that includes both local and national dignitaries. While some of its funding comes from donations and grants, the majority of it comes from membership dues. In total, the group has nearly 1,200 dues-paying members—up from 600 in 2010 (when Goren took over)—all of whom work in sports media.
Q. Why is the NSMA Awards Weekend a big deal?
For starters, the event brings many of the industry's biggest names to town—particularly for the June 25 awards banquet, during which the 2018 NSMA Hall of Fame inductees will be honored. This year's honorees include famed broadcaster Bryant Gumbel, columnist Thomas Boswell, writer Dick "Hoops" Weiss, and the late Woody Durham (aka "The Voice of the Tar Heels"). Also being honored is the 2018 National Sportscaster of the Year (Kevin Harlan of Westwood One and CBS Sports) and Sportswriter of the Year (Adrian Wojnarowski of ESPN).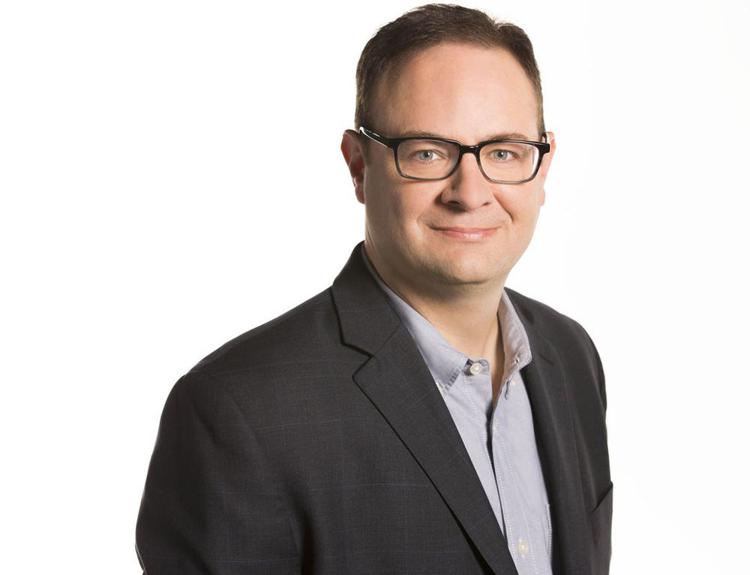 They'll join a long list of famous honorees who've attended in recent years, including ESPN broadcasters Dan Patrick, Chris Berman, Lesley Visser, Mike Tirico, and Dick Vitale along with Bob Costas (NBC), Mitch Albom (Detroit Free Press), John Feinstein (Washington Post), Peter King (Sports Illustrated), and Rick Reilly (Sports Illustrated), among others.
In addition, the ceremony honors the top sportscaster and sportswriter from all 50 states, each of whom was voted on by fellow NSMA members. Goren is responsible for counting all the ballots and contacting the 100+ winners. Among the state winners this year is Wake Forest play-by-play man Stan Cotton, who was voted the North Carolina Sportscaster of the Year.
In short, "the event gives you the chance to meet the best of the best in sports media," Goren says. "If you appreciate excellence in anything, if you appreciate great storytelling, you'll definitely enjoy it."
In a broader sense, the event also creates a unique marketing opportunity for the city. "Think about this," Goren says. "We get all these renowned media members here in town, give them their awards, and put on a show for them. Then they go back to their respective cities and say, 'Man, I had a great time in Winston-Salem; what a great town that is.' Some of them might even mention it in their columns or TV shows. So in terms of branding, it's a really big opportunity for the city. It's an event you'd normally expect to see in a place like New York."
Q. Why did the NSMA decide to move to Winston-Salem?
Goren said the decision to uproot the NSMA from its Salisbury roots wasn't an easy one to make, considering its 59-year history in the city. But in the end, he and others felt a change of scenery was needed in order to grow the organization. They initially considered relocating to other nearby cities, including Charlotte, but settled on Winston-Salem after receiving grant money from two local foundations.
Grants aside, "Winston-Salem made sense for a lot of reasons," Goren says. "We loved everything going on downtown and the overall vibe of the city. It was a bigger town than Salisbury, and that provided us with more opportunities for community sponsorships and partnerships. But at the same time, we liked that the city wasn't too big. It had some small-town charm, much like Salisbury. We thought a place like Charlotte might swallow us whole.
"Another big factor was the variety of sports offerings here. Winston is home to Wake Forest, WSSU, and Salem colleges, all of which have great sports programs. It's got pro teams like The Dash and the Carolina Thunderbirds and events like the Winston-Salem Open and the Cycling Classic, and the National Cycling Center opening up. It's also the headquarters for IMG College, which is a major sports media player. When you add it all up, it just seemed like a perfect fit."
Likewise, local leaders were thrilled to have the group relocate here. "Every city in America would love to have a prestigious organization like [the NSMA] in their town," said Mayor Allen Joines. "It fits so well with other aspects of our community in sports and entertainment, and as mayor I'm delighted to welcome them to our city."
Q. What does the future hold for the NSMA?
Goren says his main objective right now is to increase local awareness of the group. "The community support we've gotten so far has been good," he says. "But the truth is that a lot of people don't know about us and don't know we're here. We want to change that."
One way to do this, he says, is to fill out the NSMA's board with more local representation. To an extent, he's already done so by adding community pillars such as J.D. Wilson and former R.J. Reynolds CFO Dianne Blixt, who serves as board president. They join a board that includes several holdovers from Salisbury along with recognizable names such as ESPN analyst Jay Bilas, FOX Sports broadcaster Wes Durham, and Boston Globe columnist Bob Ryan.
Another way to increase local awareness, Goren says, is by moving the NSMA headquarters to a more visible location in town. Goren has been scouting potential sites in the downtown area, saying that a move could come by the end of the year. He envisions the new headquarters as having a conjoined event space for holding seminars, conventions, and other events throughout the year.
Down the road, he says the NSMA will also look to create a Hall of Fame attraction in town. The museum would honor all of the NSMA's Hall of Fame inductees (100+ to date) and could also house everything from sports memorabilia to original notes/drafts from journalists to digital displays and famous audio/video clips.
"We don't have any concrete plans yet, but a Hall of Fame is certainly something we're looking to do in the future," Goren says. "There are a lot of different ways to do a museum these days using technology, so we've got to figure out what makes sense for us."
Those plans are on the back burner for right now, though, and largely depend on finding the appropriate funding. In the meantime, Goren is fully focused on the upcoming NSMA Awards Weekend—an event he predicts will only get bigger and better with time.
"We had such a positive response to our first awards weekend in Winston last year, both from our award winners from all over the country, and from local people who attended," Goren says. "We can't wait to see what the future holds for us here."
WANT TO GO?
The NSMA Awards Weekend will be June 23-25 in venues across town. The public is invited to attend by purchasing either individual or group tickets. Individual tickets for the events start at $100, and weekend packages are also available. The deadline for tickets is June 19. Among the scheduled events are:
Saturday: A Welcome BBQ at JDL Fast Track with an after party at Foothills Brewing
Sunday: The "Legacy Night" dinner and panel discussion at Benton Convention Center
Monday: The 59th annual NSMA Awards Banquet at Joel Coliseum
To see the full list of scheduled events or to purchase tickets, go to nationalsportsmedia.org.