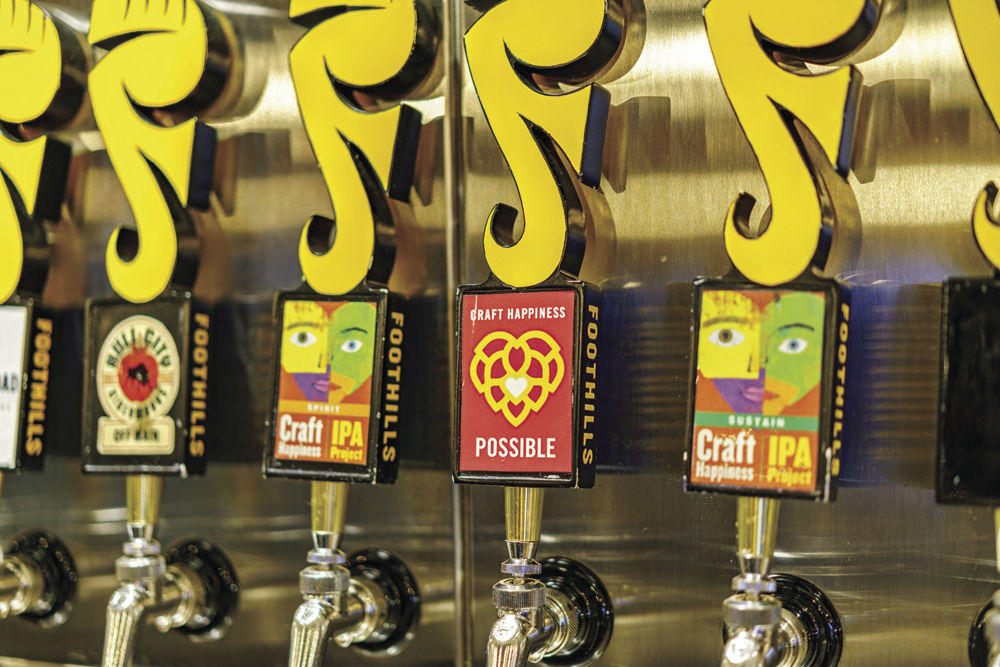 You and a couple of your friends walk into a brewery and cozy up to the bar. If you're anything like me, choosing a beer can be be tough.
Luckily for all craft-beer aficionados in the area, Foothills Brewery just made that decision much easier thanks to its 2019 Craft Happiness Project.
"The people who love craft beer and the people who passionately care about their planet and their community, it's a very crowded intersection," says Ray Goodrich, the marketing guy at Foothills. "We basically started a series of beers that was beyond an event for charity or a check for charity. It was about—and I know it sounds facetious and maybe a little egotistical—but our goal was to change the world."
To get started making a difference in the community, Foothills launched an IPA of the Month in 2014. That year featured a tasteful Vargas-style female on the label that coordinated with the seasons; the next year a dog competition featured submitted photos and the hashtag #foothillsipadog, which received more than1,500 entries; and then, a Hop of the Month.
Eventually, it was time to kick it up a notch.
"I thought, 'I think we should not just give money to charity; I think we should theme beers for community needs,'" Goodrich says. "Craft Happiness is to literally change our world because handing a $500 check to a humane society isn't going to change our world. Getting you to understand the needs of a humane society is going to change our world."
Craft Happiness officially launched in 2017 and has brought attention to more than two dozen organizations—and donated more than $12,000 to them.
Ever since Foothills launched the campaign—which is Goodrich's personal pet project—responsible consumption has taken on an additional meaning.
Goodrich and the rest of the Foothills management team not only rely on their bar staff to help spread the word to patrons, but also rely on their Foot Soldier running club to raise awareness by pounding the pavement. Eventually, the project became evangelized thanks to these ambassadors.
"You start with a little group of people and you cast your net to them, they buy in, and they go out and cast their nets and catch people," Goodrich says. "That's how we've been able to grow Craft Happiness and get awareness out there; evangelizing our customers and saying, 'Hey, we want you guys to enjoy our beer but we want you to start taking responsibility and being aware of needs in our community and what you can do.'"
For a while, Foothills was able to keep their project aimed at North Carolina and surrounding area nonprofits but it's evolved to a more national push. In the past, the Animal Adoption & Rescue Foundation (AARF) and Habitat for Humanity have set up awareness tables to help educate the craft beer community. After all, every little bit of education helps spread the message that much more.
"As our blog says, we've donated over $12,000 to charity. As proud as I am of that, I'm more proud of the fact that I think we've raised awareness," Goodrich says. "It brought attention to the needs of some of these things, some of them people don't even realize."
Spend a little, learn a lot
Coming up with the nonprofit lineup is Goodrich's personal project, and something he takes very seriously.
"We know there's things you can do for homeless people, there's things you can do for homeless animals, there's things you can do for your environment," Goodrich says. "The whole thing about awareness is not, 'I'm going to use less plastic.' It's, 'I'm going to use alternatives to plastic.' That's what we use this platform for."
The 2019 nonprofit lineup was announced in January, and some serious thought was put into each of the organizations. The Possible IPA kicked off the year with sales benefitting Operation USA, a group that works to alleviate the effects of disasters, disease, and poverty. February focused on the rights and rescue of shelter animals with proceeds from the Companion IPA going to Asheville's Brother Wolf Animal Rescue.
"We're invested in [Craft Happiness] because we believe in it. Not because we can then say, 'We're the best,'" says Goodrich.
The charities and organizations that the 2019 Craft Happiness will support run the gamut but each one is making a considerable difference in some way. And Foothills isn't asking for folks to write a check. Instead, they're asking folks to change their thought process.
"In our little world, the lives we've seen touched by what we're doing with Craft Happiness, there's just a lightning and an awareness that people understand now that there's all these needs out there. You are equipped right now to help those with needs and it doesn't mean you need to spend a lot of money," Goodrich says. "You might have to put in a little time."
So buy a pint (or two) and support a worthy cause. Just make sure to call a cab.
Be the first to know
Get local news delivered to your inbox!