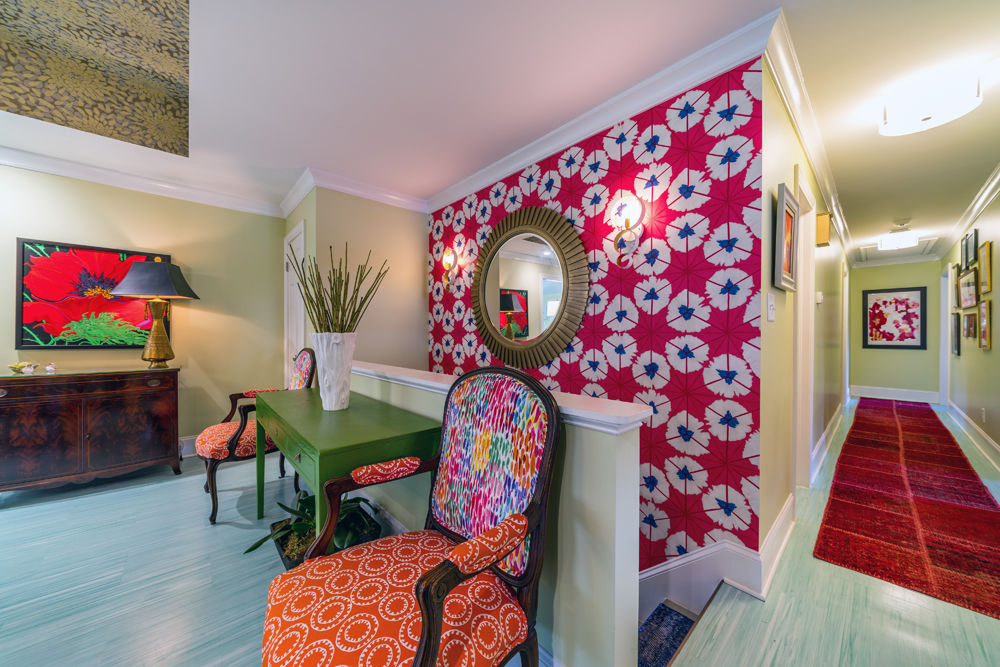 It's not every house that welcomes guests with a purple foyer. It's definitely a bold design choice, and judging by the results, a beautiful one at that. It also effectively embodies the work of Melissa Ward, an interior designer with a penchant for the bold and the beautiful.
We got to know Ward, the creative force behind the design studio IDEAs, this past February when we featured her in our annual "Designers We Love" column. At the time, she was in the process of phasing out her Burke Street storefront and turning the space into a full-blown design studio. A year and a half later, we couldn't help but look in on one of Ward's latest remodels—the home of Rich and Bess Wagner, which was featured on the Junior League Tour of Fine Spaces this past spring. As you can see, the house is truly something to write home about, but it didn't start out that way.
"When [the Wagners] first asked me to come see the home they were interested in, I was confused," admits Ward. The designer had worked with the couple on their former home, and the ranch they were looking at didn't seem like their style. "It was just a typical ranch," she recalls. "Doors at every turn, white squishy carpet, a brick fireplace, and small rooms galore."
Though the house was dated and boxy, the Wagners were looking past its current state and envisioning what it could be. Ward admits it had good bones and was situated on a nice-sized lot in a popular part of town—Plymouth Avenue in Buena Vista—so it had potential. But she also knew it was going to take a lot of work to turn it around.
Modern Transformations
The Wagners wound up purchasing the home and living in it for a short while before asking Ward to come in and work her magic. It started with a few quick updates that helped make the house more livable before a "full-throttle renovation" commenced.
The project forced the couple to vacate the house while the remodel was underway. More importantly, it required them "to open their eyes and minds to what they really wanted the house to be," Ward says. "They were willing to do things out of the box and travel with me along a design idea or concept. It really worked well together."
The design they came up with was transformative, embracing the modern ideas of graphic patterns, simple lines, and openness. New floor plans called for removing and relocating walls, and new windows were selected for their ability to let in light. Each room became a stage with its own floor plan, fabrics, and design. Family heirlooms and furniture were brought back to life with new backdrops of wallpaper and lighting. Pops of color were introduced in a variety of ways, much to the delight of Bess.
"The Wagners have a great sense of color and pattern, and Bess leans toward graphic patterns and simple lines and open flow," Ward says. "She's particularly inspired by the graphic nature of the Marimekko brand," a Finnish home furnishing company known for its iconic patterns and timeless designs. "Knowing that, I always try to think of things that will really excite her when designing rooms for her family."
The results are stunning, revealing what can be accomplished when a designer and a homeowner speak the same language.
Ward points out that one of the more noticeable materials used in the renovation is the commercial VCT flooring (Vinyl Composition Tile) found in the kitchen, living room, hall, bathrooms, and guest room. "The VCT tile really helped alleviate the maintenance that comes with wood floors and adds a modern backdrop to the home."
Other key elements used to enhance the modern styling are grey-washed cabinets in the kitchen, a lacquered peacock-blue bar, leathered granite tops, and wallpaper on many of the home's ceilings and accent walls. "We also used unique mural wallpaper in the basement that was designed by a Swedish artist," says Ward. The basement also turned out to be another great place for modern touches such as a fireplace surfaced with a Scandinavian-inspired tile and full of aqua glass rock chips.
The Wagners also added a front porch and worked with Ward to select a stone that would give the home, as she puts it, an "I have been here forever" look. Vintage rattan furniture and a custom-designed front door and shutters help enhance the home's curb appeal, while the addition of a modern-style mailbox, house numbers, and lighting as finishing touches helped achieve the design team's overall goal—to take a traditional ranch and make it cleaner, more modern, and more open.
And it all starts with that purple foyer.
"Most people are surprised when they step inside the house for the first time," Ward notes. "[The foyer] certainly comes as a surprise." Yet the foyer—with its vintage lighting and wave-pattered ceiling—provides a fitting reflection of the family who call the place home. "It's a fun introduction to a fun family that is full of life."