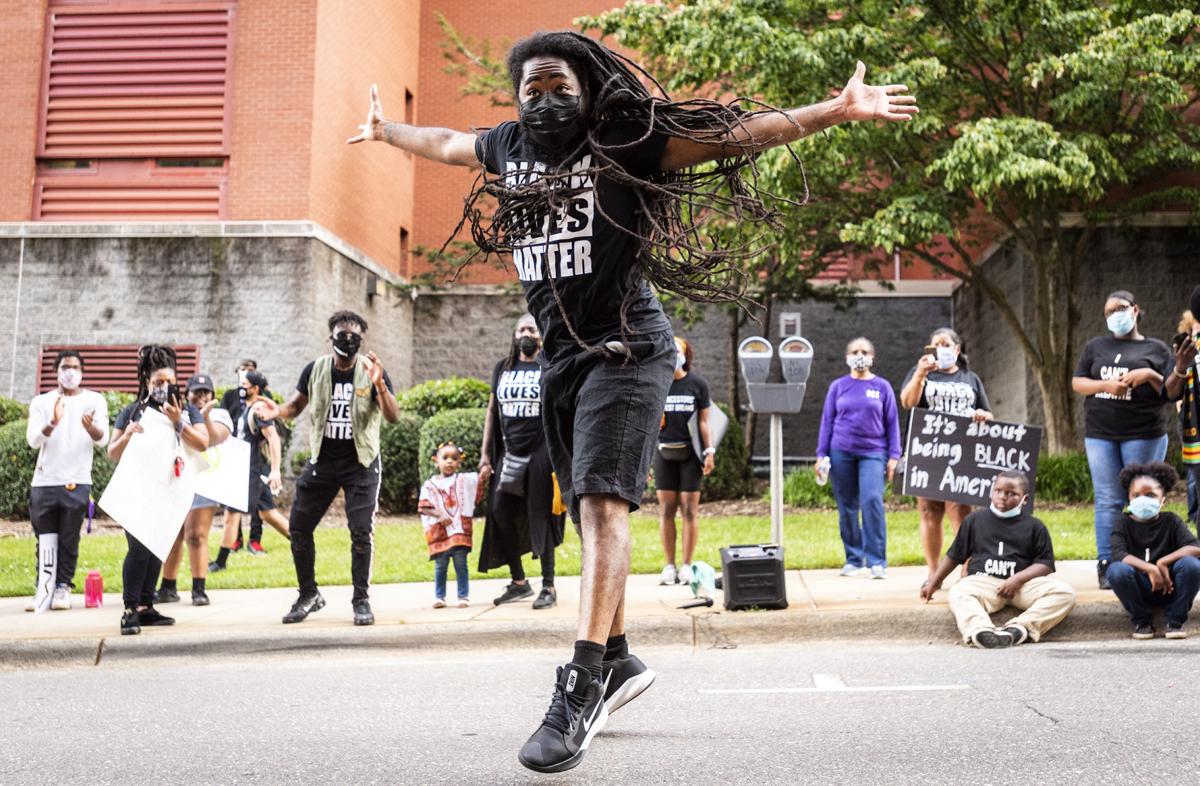 Small feet in big boots stomp out a beat. Clapping hands add polyrhythms, and voices rise in song.
Led by Imara Smith, 11, Greater Vision dancers perform a gumboot dance, aka Isicachulo, at an African-American History event at the Forsyth County Library. Isicachulo is a step dance that came from South African gold miners instead of American fraternity members.
Tia Buster, Smith's mother, says that she has been dancing since she was 4.
"She followed Nyasa Smith, her sister who is five years older, into the Greater Vision company," Buster says. "They have grown artistically and learned to express themselves through dance and drumming."
Greater Vision Dance Company offers the usual ballet, jazz, modern, step and hip-hop classes for children and adults, but its dance moves are grounded in the context of African-American history and culture.
"This is something that's new and fresh," says Kenya Heck, the owner's sister, who does finances and administration for the school. "You are learning about different kinds of dance, but it's centered around African-American culture."
Heck not only works at the school but also takes adult classes there. "It's a blend of ballet, jazz, modern, hip-hop – you get good workout in 45 to 60 minutes."
The school's founder and lead teacher, Wayne Jones, 35, grew up in Winston-Salem and graduated from Carver High School in 2003.
He showed an interest in dance at an early age, and his mother, Angela Twitty, made sure that he took classes whenever he had the chance.
Now Twitty does costumes for the school and works at the front desk. The students call her Miss Angie or Yaya, an affectionate word for grandmother.
Jones attended UNC School of the Arts Preparatory Dance Program and was taught by Jan Adams and Dayna Fox when he was 8 to 13.
Fox, now retired from the program, says, "I remember his big smile and enthusiasm."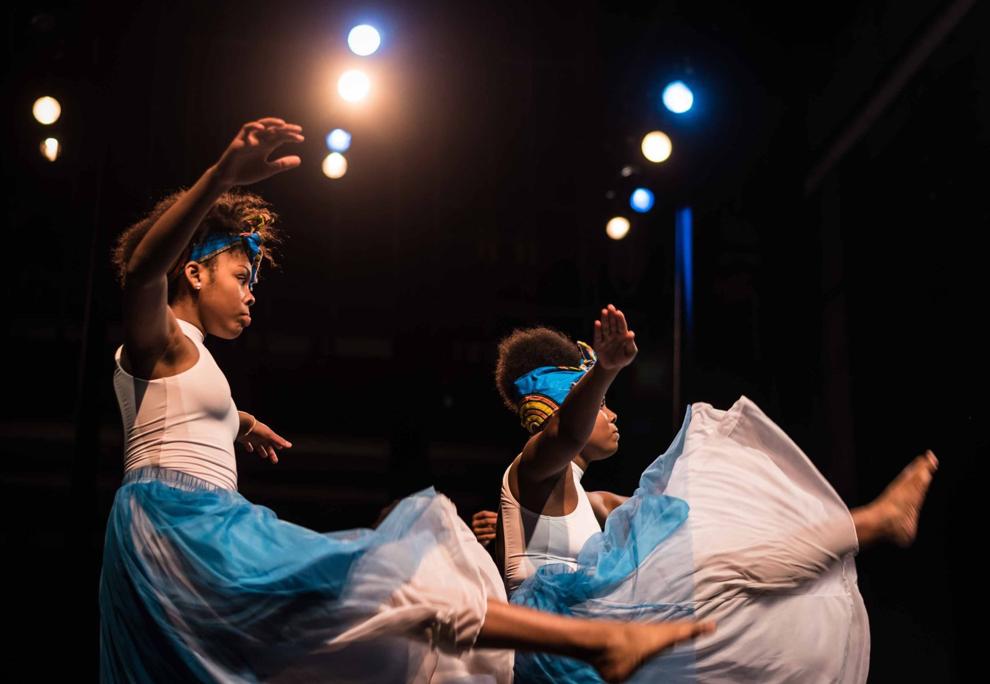 "It was a free ballet program that started my whole dance foundation," he says. "Then I started branching out and took jazz, African, modern."
After taking some hip-hop classes, he started choreographing.
"At 16, I started teaching hip-hop at Just for Kicks and created a Dance Ministry at Union Baptist Church," Jones says. Monica and Jerome Johnson, a brother-sister team, owned Just for Kicks. Now they have Monica and Jerome International Dance "Experience," also in Winston-Salem.
Jones continued to teach and dance including at Jyration Academy of Dance and Entertainment - while he studied public administration at Virginia State University in Petersburg, Va.
After leaving Petersburg, Jones moved to Washington, D.C., for seven years and worked for the CityDance program in the Washington school system, teaching kids before and after school. His students performed all over the city, including at Washington Wizard games.
He was a coach and a teacher at a competition studio, Back Stage, in Columbia, Md., where he taught hip-hop, jazz, and lyrical dance.
He returned home to Winston-Salem, and opened Greater Vision in 2012.
"When I came here, I had a vision beyond competition, and I felt like it was greater. I wanted a community-involvement studio," Jones says. "We do Juneteenth, Kwanza, the MLK Day celebration, churches and banquets, and the National Black Theatre Festival."
By performing at local events, his students can earn community service hours that that might go toward scholarships, graduation, or college entrance applications.
"When you are teaching dance, you are teaching life," he says. "You learn how to work with people, how to build your self-esteem, how to deal with your attitude."
Dance even teaches math and science, Jones says. "If I say do two counts of eight, they have to know how many counts that is. Dancing keeps them engaged and off the street."
Jones offers all-boy dance classes when he has enough boys to fill them.
"When I have boys, it's more athletic," he says. "They are more daredevils. I take the boys outside, so they can be in the grass. … My main thing is teaching boys that it's OK to dance."
In 2013, Steve McLendon, a 320-pound nose tackle for the Pittsburgh Steelers, talked about taking ballet in a Pittsburgh Post-Gazette story. In 1981, Steeler Lynn Swann talked about his ballet classes on an episode of "Mr. Rogers' Neighborhood." Swann started lessons in fourth grade.
"I tell them that athletes take yoga and dance," Jones says. "Stretching prevents injuries."
Jones takes his students to 24/7 Dance Conventions in Greenville, N.C. and S.C., and he has taken them to Debbie Allen intensives in Atlanta and California.
"Wayne opened the door for Imara and Nyasa to be part of local theater productions," Buster says. "Nyasa met Phylicia Rashad at one of the Debbie Allen intensives, and he took them to Washington, D.C., where they danced on the steps of the Capitol."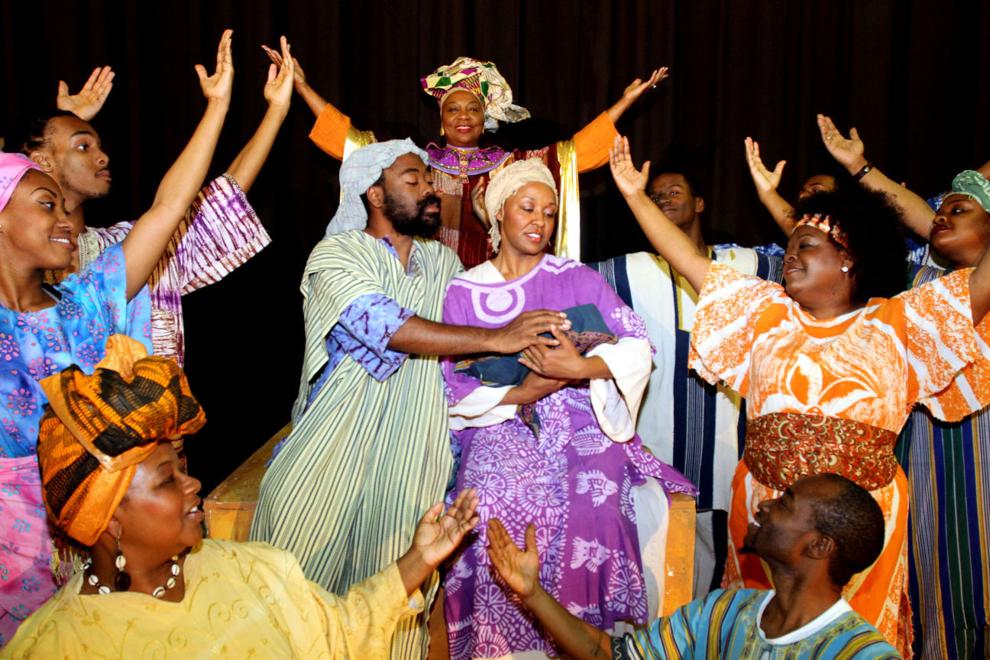 Jones has danced for several years in the role of Joseph in N.C. Black Repertory Company's annual production of "Black Nativity" and more recently in "The Nativity According to the Gospel."
The 2020 production was canceled because of COVID-19, but 2019 was special for Jones.