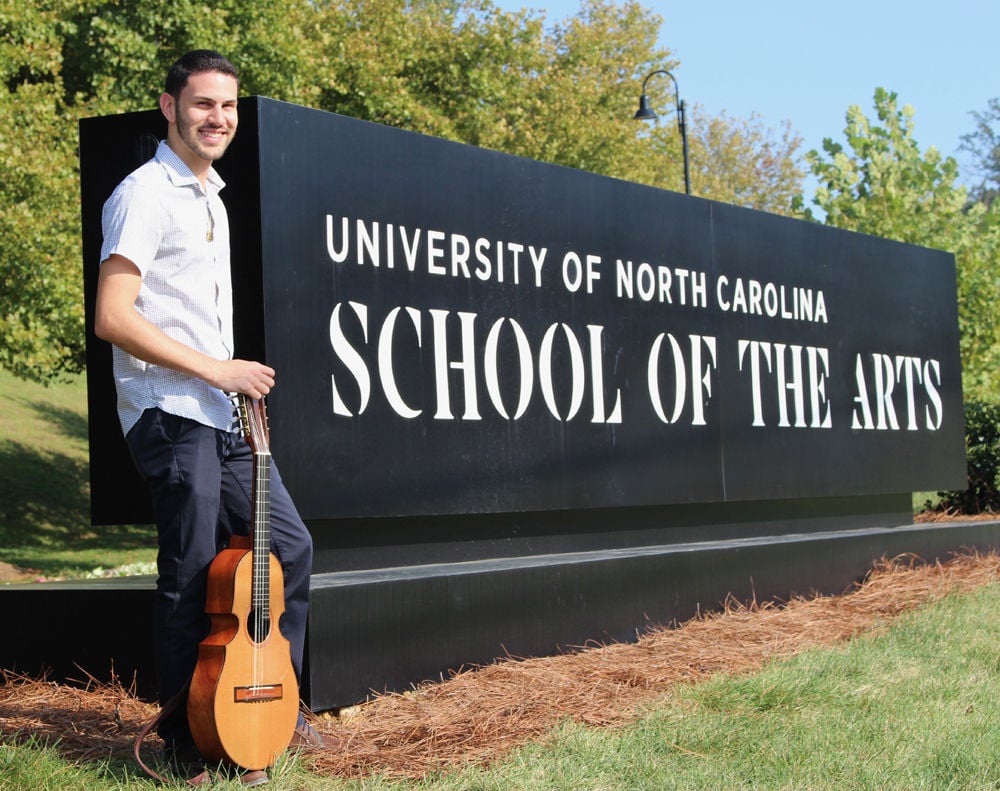 Luis Sanz can still recall the first time he heard a cuatro. A man from his church played the stringed instrument, which resembles a skinny acoustic guitar, and had brought it over to his house one day after church. Sanz, who was 4 at the time, was instantly fascinated. He remembers tugging at the instrument's metal strings, careful not to cut his fingers.
"He played different songs, and hearing this sound, I just became curious on how to make that music," Sanz says.
Sanz, who hails from Toa Alta, Puerto Rico, took up the cuatro soon after and quickly made a name for himself. At the age of 9, he played on an album with guitarist Apolo Ocasio and was selected by the Puerto Rico Symphony Orchestra to perform as a soloist during one of its concerts. At age 12, he formed a duo, Hermanos Sanz, with his sister Lisvette, and the two of them performed throughout the U.S. and Europe. And just last year he was featured on a recording by Puerto Rican rapper Residente, "Hijos del Cañaveral," which was nominated for a Latin Grammy Award.
Sanz, 23, is currently pursuing a Master of Music degree at the UNC School of the Arts. With his wide smile and friendly disposition, Sanz is trying to promote his homeland through music, having composed a piece in honor of those affected by Hurricane Maria. The storm hit Puerto Rico back in September, killing around 500 on the island.
"We as artists have an important role in society to give support, to help in fundraising," he says. "We can do that through our music, our compositions."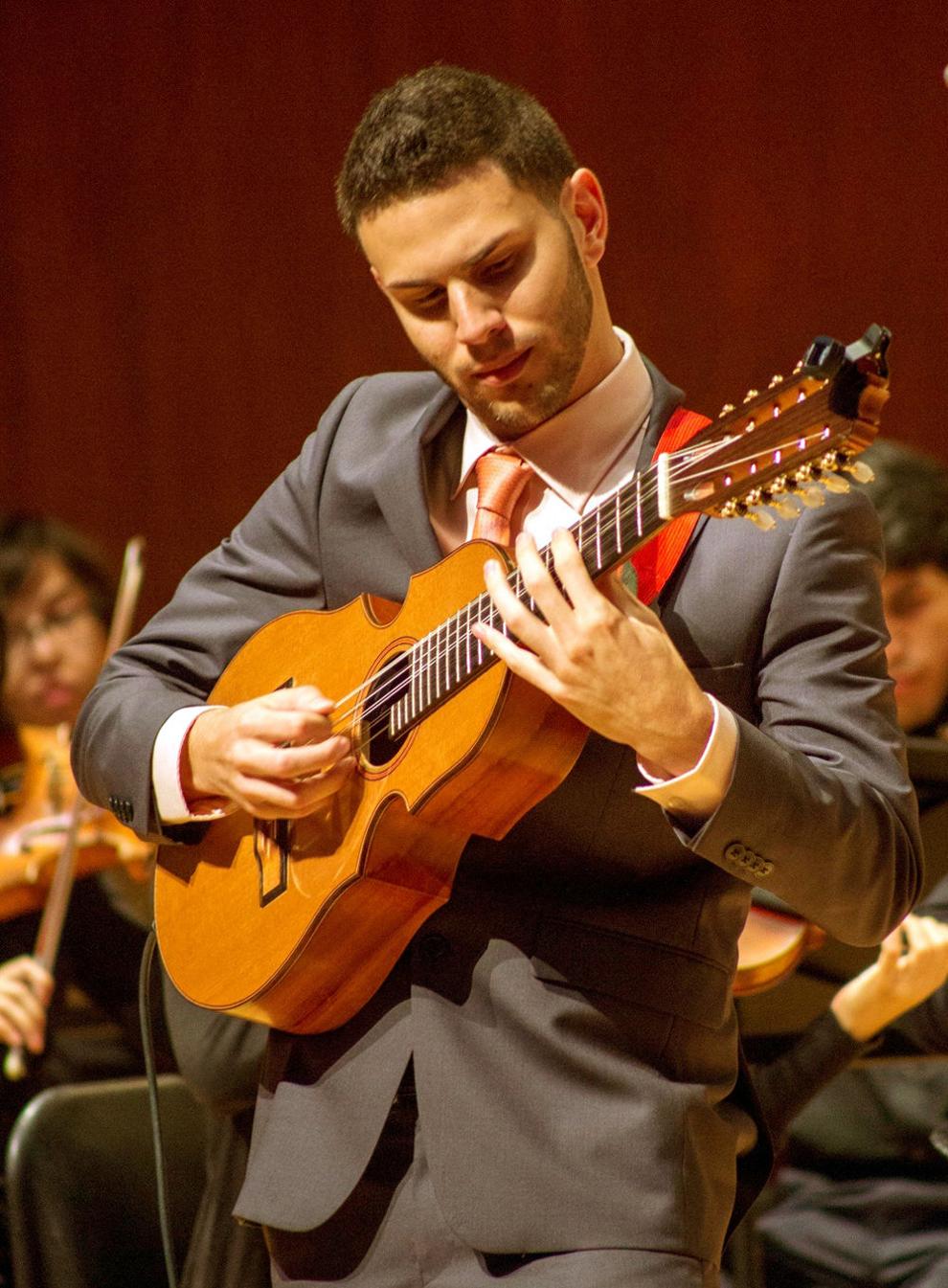 The cuatro was modeled on stringed instruments brought over from Spain and became popular beginning in the 1500s among those living in the hills of Puerto Rico. Sanz likens its sound to that of a mandolin. In the old days, most cuatros had four strings—hence the name, meaning "four" in Spanish—but most today have 10.
"It can be used as an accompanying instrument, very easily, in terms of playing chordal accompaniments in rhythm with singers and other instruments," says Brian Cole, dean of the School of the Music at UNCSA and former associate dean of academic affairs at the Puerto Rico Conservatory of Music. "It can be used in a soloistic way, much as jazz instruments would be. And when you hear it, there's an immediate association with Puerto Rican music. It's an instrument that most Americans have never heard of, but if they hear it once, they'll make that connection."
Sanz plays mostly folk music but incorporates some classical elements into his compositions as well. In 2015 he crafted a first-of-its-kind concerto for the cuatro, Fantasia Para Cuatro y Orquesta.
"Luis is unique in that he's able to take the very traditional elements that are important to the cuatro and really expand the boundaries of what the cuatro does," says Cole. "He has a very versatile skill set. I think people like Luis are going to be very important figures for the future of Puerto Rican music."
Sanz's work with Residente, one of Latin America's most popular rappers, was his first foray into hip-hop. His song, "Hijos del Cañaveral," was nominated for Best Tropical Song at the Grammy Awards in 2017. The song also appeared on Residente's self-titled debut solo album, which included collaborations with several other artists—among them, Lin-Manuel Miranda, creator of the Broadway hit Hamilton.
"We have different styles, but we had a good sharing of ideas," Sanz says of Residente. "This song was a combination of our styles, between the rap and the folkloric."
Sanz continues to work with his sister and tries to get back to Puerto Rico on a regular basis to record.
He was studying at UNCSA this fall when Maria struck the island. While his family survived the flooding, they were left jobless with no electricity and very little water.
After the storm, a local TV station began using one of Sanz's compositions to promote recovery efforts—"Ponte en Pie," which means "stand up." The song has become the island's rallying cry for post-hurricane rebuilding efforts.
"The island was impacted really hard," he says. "But the process is still ongoing. The message of this song is that no matter what happens, we Puerto Ricans are still working. We never give up."
The UNCSA Symphony will perform pieces by Sanz and other students on April 10 at Crawford Hall. The school's Jazz Ensemble will also perform a piece of Sanz's, "Borinquen Fantasy," at 7:30 p.m. on April 13 at Freedman Theater. Admission for both performances will be is $18 ($15 for students). For more info, go to uncsa.edu/performances.