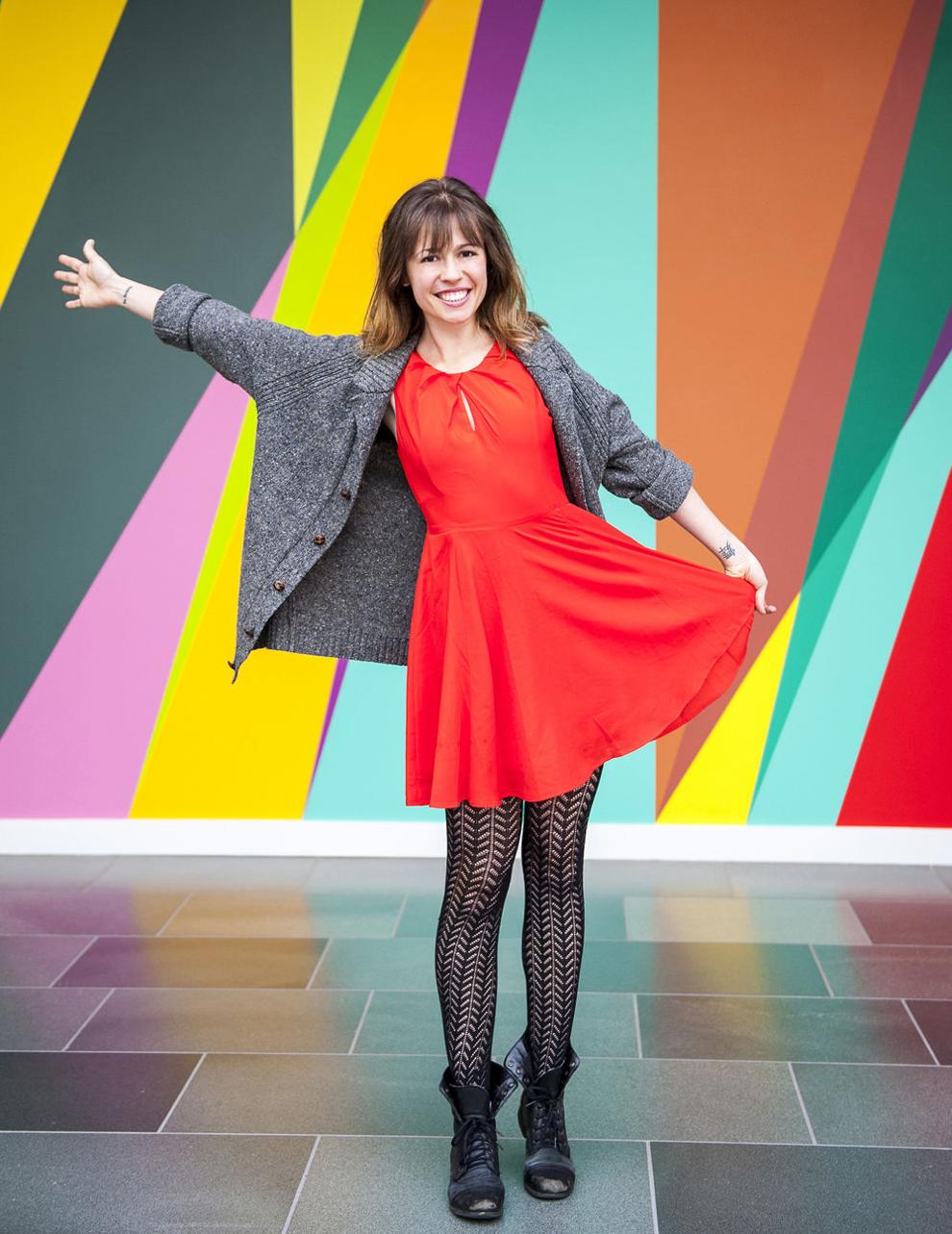 As the founder and owner of The Engaging Educator, Jen Oleniczak Brown is an accidental entrepreneur who recognized a need for her co-workers at the Guggenheim Museum in New York to spice up their educational tours. Using the acting skills she honed while performing off Broadway, she started a side business (the Engaging Educator) that turned into a full-time gig when national companies took notice of the program's ability to improve their employees' communication, public speaking, and social skills through improv.
The success of the NYC company led her to open a second location in Los Angeles and a third in Winston-Salem. She's since given three TEDx Talks on the power of improv and launched The Engaging Educator Foundation, a 501(c)(3) that offers free and low-cost improv workshops for educators, at-risk adults, teens, and students on the autism spectrum.
Six years and one move to Winston-Salem later, Brown, 35, is hard at work on her newest venture, Fearless, a collaborative collective and social community at the corner of Burke Street and Brookstown Avenue for women. Fearless is a space where things like knitting classes are offered alongside forums on intersectional feminism—and Brown says they're equally important and valuable for women.
1. The Engaging Educator is in New York, Los Angeles, and … Winston-Salem? How did you end up here exactly?
"Reynolda House invited me here about four years ago, and I did workshops with them and other museums in the state that fall. I was getting burned out in New York; there's this constant hustle there, and not in a good way. There's never a moment to catch your breath. I was at SECCA and thought, 'I really like North Carolina. It's not New York, but it's cute. I'm falling for this place.' The following spring a late snowstorm hit New York, and I was like 'Nope, I'm done.' I told my friends, 'I'm going to North Carolina.' It's probably worth adding that I had met my future husband, Alex Brown, at SECCA. (Alex is head of audience engagement at SECCA.) When I made the decision to move, everything just fell right into place here. I got a co-working spot at Flywheel and found the entrepreneurial community here to be so much more welcoming than in New York."
2. What led you to launch Fearless?
"Women in our Engaging Educator program were really benefiting from our improv classes, learning tips and activities to be better listeners, so we changed our business model to be women-centric. I started to notice I was meeting friends at coffee shops, having personal and sometimes emotional conversations in public because there was no shared place for women to meet and hang out. I thought, 'Why don't we jump on what's happening nationally and start a clubhouse for women?' The idea of offering classes allows women to open up and feel safe because the emphasis is on something else, like knitting. Others are comfortable in open discussion groups. Here, they can all just be themselves."
3. How do women benefit from a shared space to connect?
"Women often think the 'Pie of Success' is finite. We need to work from a place of abundance because we all can be so much stronger by working together. We also tend to measure other women by our idea of what a woman should be. That really needs to stop. I hate the idea of girl-on-girl crime. Instead of being nasty, we need to actively elevate each other. We all disagree sometimes, but your ideas and opinions are not better than mine. They're equal."
4. What are your plans for outreach to support women who lack the resources to come to Fearless?
"I'm passionate about outreach. Feminism isn't feminism unless it's intersectional, and Fearless is not just for women who can get here or who can afford it. That's why we'll always have free events and find ways to get out into the community. This space comes from a position of privilege, and I recognize that. It's why I want to use it to elevate women like Faith McKnight, owner of The Sweet Truth Bakery & Catering. She's an incredible friend who is a veteran and created a business through her struggles, including her husband suffering from cancer. She really reflects what Fearless is all about—trying new things, being true to yourself, not being afraid. I think each woman has the ability to change the world around her. The key is empowering and celebrating them together."
5. How do you select the different topics for Fearless classes and open discussions?
"Women have been reaching out through our Facebook group and website to offer their expertise. Some classes are free, others have a fee, and we will keep this balance. I'm so grateful for the support of women in this community as well as the Small Business Center, and I'm especially grateful for Molly Grace (program manager at Fearless). She and I balance each other in sensibilities. She suggests more casual meet-ups to complement my class-scheduling brain. Eventually we'd like to move into a membership model and be open all the time."
Fearless has a number of workshops, social events, instructional seminars, and more planned for September at its headquarters (1002 Brookstown Ave.). For more details, go to fearlesswsnc.com.