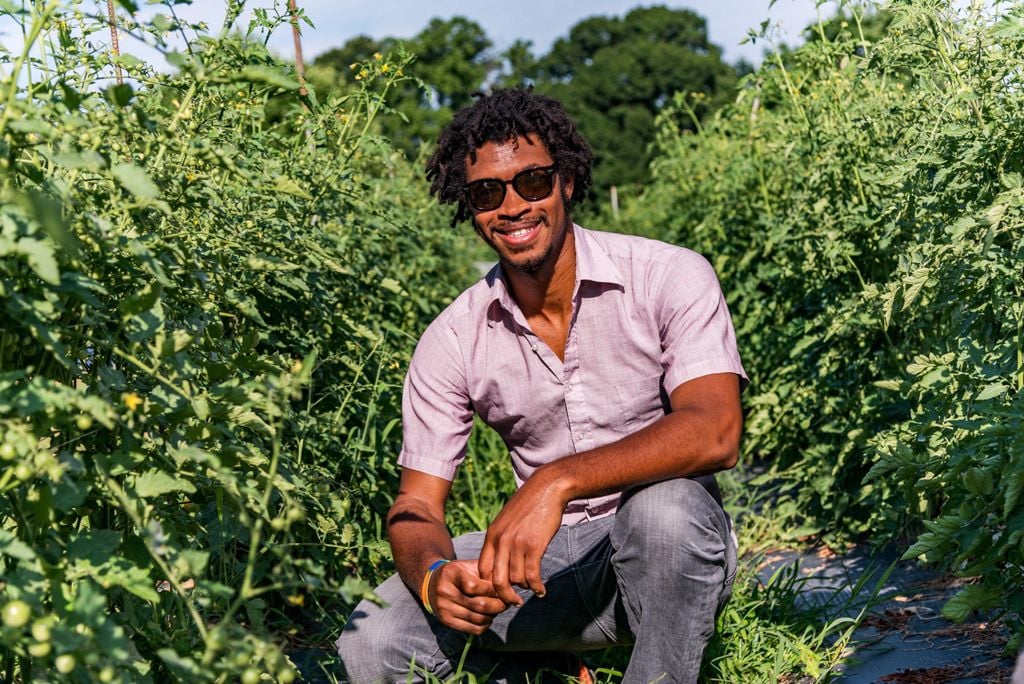 Food isn't just a passion for Marcus Hill. It's a means of building community. 
As a pioneer of the local food movement, the Wake Forest alum has impacted Winston-Salem through a variety of food-driven initiatives in recent years. He volunteered to help transition a small farmers market into the original Cobblestone Market outside of Krankies. He helped create a monthly Chaos Cooking event series that won an ECHO Award from the Winston-Salem Foundation. And he was tapped as co-researcher and writer on the Forsyth Futures-led food assessment report, which examined local food systems in depth.
Today Hill serves at the lead coordinator for Forsyth Community Food Consortium (FCFC), a newly established food policy council whose mission is to enhance our regional food systems. Hill, who holds a master's degree from Yale, chatted with us recently about good food systems, the mission of the consortium, and his love for Winston-Salem as a whole.
1. For starters, what is a food system?
"In general, the term 'food system' refers to the cycle and elements of food creation that keep communities fed. A community food system is traditionally broken down into five categories: production, processing, distribution, consumption, and waste. Within these categories are various elements and stakeholders that contribute to the system."
2. How do you describe the FCFC?
"We are a community-driven food-policy council, resource center, collaboration hub, and project facilitator that's centered on local food system development and issues. I recently started summing up our work in three words: Food. Community. Action. There is a lot of interest and familiarity with terms like 'food insecurity' and 'food deserts.' We're trying to connect that local interest with alternatives that are proven to work.
3. What do you mean by community-driven?
"FCFC believes that no individual or organization can achieve the same impact as the collective work of many. We have structured FCFC as a cooperative that gives members ownership in the direction of the organization. We are getting ready to roll out memberships with varying levels including 'general' and 'partner,' as well as a coordinated network of Action Teams for further engagement. A big part of our mission is collaboration. For instance, one of our recent projects was to work with City Planning to pass the Urban Agriculture Ordinance in support of urban agriculture. We also worked with the county's farmland preservation initiative to help develop ideas for preserving local farmland."
4. What are some of the bright spots in the local food community?
"There is a growing interest in worker-owned cooperatives. This is an often overlooked component in economic development that can reach across class lines. There are some resources coming online in Winston-Salem that will help develop more cooperatively owned businesses, including grocery stores and wholesale buying clubs, to serve more low-access communities. It's something I'm really excited about."
5. What makes Winston-Salem special to you?
"I've really fallen in love with Winston. There is a strong network of people here trying to do good things in a very ragtag, renegade way. It's not perfect, but that's part of the reason I like it. And the city really likes supporting things, so we want to help create more local food channels to focus that support."