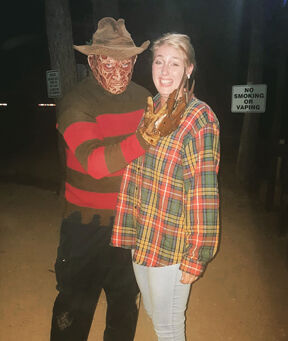 Growing up, I harbored a fear of vampires after sneaking out of bed in the middle of the night, hiding from my parents at the top of the stairs, and watching "Dracula" right along with them. It wasn't my smartest move as it left me riddled in fear for way too many years, and as a result, I still sleep with the blankets tucked up around my chin as a last-ditch effort to thwart any vampire who dares suck my blood.
I honestly thought that vampires were going to be much more of an issue in my life but thankfully, they aren't.
The dark used to scare me. As I got older, I learned to embrace it.
Like a lot of people I know, I don't sleep well. It often evades me after a few short hours, leaving me restless in bed next to dozing cats as the sounds of traffic on U.S. 421 fill my apartment. It also leaves me alone in the dark, which is how I learned to get over my irrational fear of vampires; also helping was that I finally read Bram Stoker's "Dracula," and now that I've been blessed with that beautiful work of literature, I'm no longer afraid.)
This time of year excites me and it's not because of pumpkin spice or lower humidity. I tend to welcome autumn for all it offers that's spooky and suspenseful, or haunted or Halloween-related. It's a time of year when some of the best movie flicks of all time can be found on several TV stations, everything from "Halloween" and "Scream" to "Hocus Pocus" and "The Nightmare Before Christmas."
I bring out all my favorite creepy authors: Edgar Allen Poe, Ray Bradbury, and Mary Shelley. I'm currently reading "The Stand" by Steven King, another one of my favorites, and I've had to pause several times since it closely aligns with many of today's current events.
One of my favorite crime shows (currently binge watching "Criminal Minds" thanks to the pandemic) had Robert Englund as a guest detective. Do you know who he is? He's most notably known for his role in "Nightmare on Elm Street" as dear Freddy Krueger.
Freddy is my all-time favorite and the movie has one of the best haunted jingles I've heard. I was fortunate enough to meet both the real Freddy (college newspaper interview) and a Freddy cameo (Kersey Valley Spookywoods in Archdale; see above).
Meeting both versions of Freddy could help explain why I welcome the paranormal and the peculiar. His character isn't real — but it's real enough to take me to another point in time just long enough before I remind myself that it's not real by switching off the TV or turning on the light.
Some seek solace in music, some in cooking. For me, it's old, scary movies so this October, you can find me curled on the couch with some of my favorites and a bowl of popcorn. So long it's a creepy movie without vampires, I'm here for it.
Eat extra candy and be well,