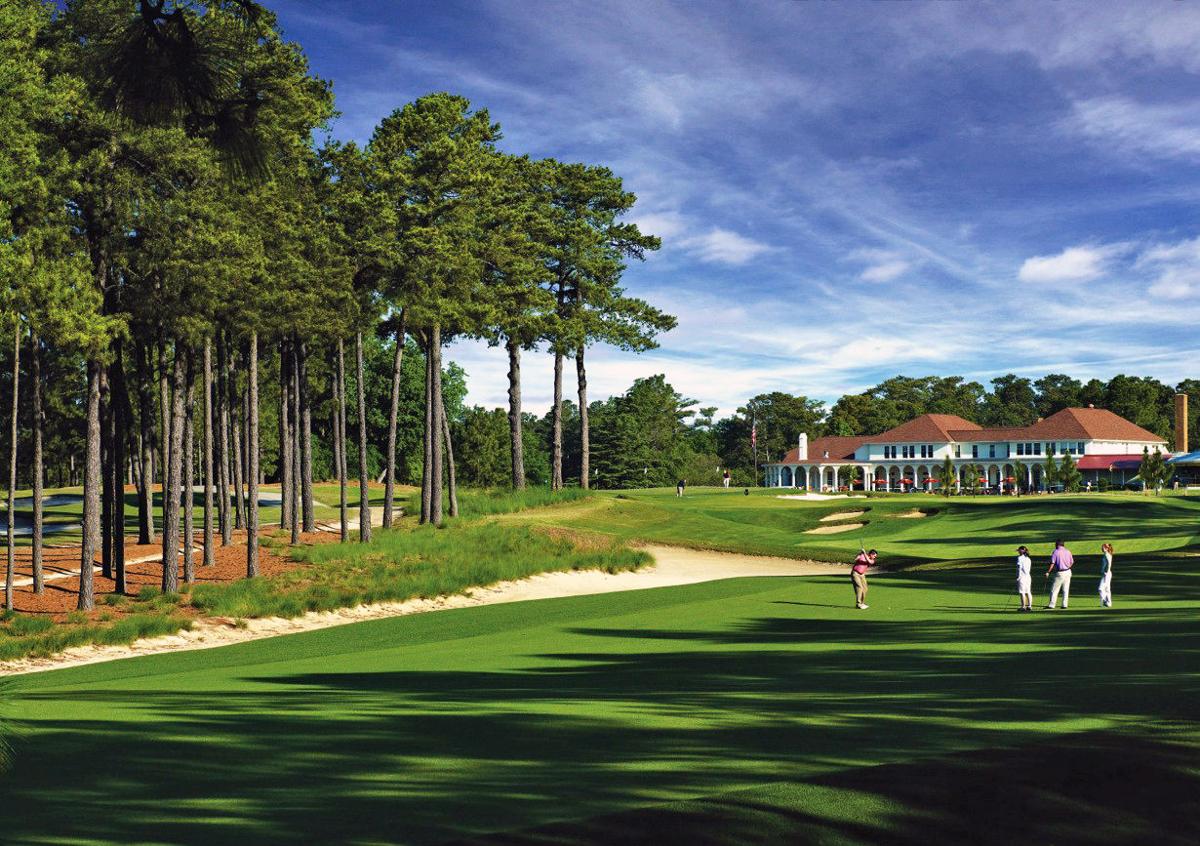 Here in the South, golf practically becomes religion in April. Part of this is due to the annual Masters Tournament (golf's version of the Daytona 500), but a bigger part has to do with Mother Nature. Gone are the blustery, unpredictable days of March. In come the warm breezes and blooming trees of spring, beckoning even the most novice of golfers to hit the links.
Luckily for locals, good golf is pretty easy to come by in these parts. Golf Digest recently named the Triad one of the "Best Regions for Golf in America," noting the area's mild climate, sensible greens fees, and abundance of courses—many of which were mapped out by world-famous designers.
The Triad mirrors the Tarheel State as a whole, a place that's long been considered a haven for golfers. In fact, Golf.com and Golfweek magazine both ranked North Carolina No. 5 in their recent rankings of "best golfing states." As one of the reports notes, "North Carolina has mountain golf, seaside golf, and Pinehurst No. 2." What more could you ask for?
With golf season reaching its summit, the timing seemed right to explore our golfing culture here at home. The following article offers a dozen interesting factoids about the sport, all revolving around our city and state. (Go ahead; feel free to use this to impress your buddies out on the greens.)
---
1. When it comes to U.S. states, North Carolina is No. 8 in terms of total golf courses, boasting more than 400 public, semi-private, and resort courses. (Florida has the most with nearly 1,000.)
2. By our count, Forsyth County has 13 full-length golf courses: Old Town Club, Forsyth Country Club, Wilshire, Winston Lake, Meadowlands, Maple Chase, Maple Leaf, Reynolds Park, Old Homeplace, Tanglewood (which has two Par-72 courses), Salem Glen, and Pine Knolls. It also has one Par 60 executive course (Heather Hills) and one Par 3 course (at Tanglewood).
3. Linville Golf Club, built in 1895, is said to be our state's oldest course. The newest is The Cradle, a 9-hole short course that opened in Pinehurst last fall.
4. Winston-Salem's oldest course is Reynolds Park, built in 1940 on land donated by the Reynolds family. The newest (technically) is Heather Hills Golf Course, which reopened in 2013 after originally closing in 2007.
5. According to Golf Digest's recent ranking of the "Top 10 Courses by State," the best full-length golf course in North Carolina is the Wade Hampton Golf Club in Cashiers. Old Town Club was the only Forsyth County course to make the list, coming in at No. 7 (one spot higher than Charlotte's famed Quail Hollow).
6. Several of the world's top golfers call (or have called) North Carolina home. This includes Arnold Palmer, who honed his skills at Wake Forest in the early 1950s before becoming the sport's first superstar. Other N.C. golfers include Webb Simpson, Curtis Strange, and Bill Haas (all fellow WFU alums), Davis Love, Lanny Wadkins, Mark O'Meara, and Raymond Floyd.
7. Charlotte native Charlie Sifford, known as the Jackie Robinson of golf, became the first African American to compete in a PGA Tour event. He placed fourth in the 1961 Greater Greensboro Open, ultimately causing the PGA to drop its white-only policy.
8. Speaking of icons, several of the sport's biggest names have helped design courses locally. This includes Donald Ross (designer of Forsyth Country Club), Robert Trent Jones (Tanglewood), Arnold Palmer (Oak Valley), and Jack Nicklaus (Salem Glen).
9. North Carolina has hosted six men's majors over the years, the most recent being the 2017 PGA Championship at Quail Hollow. All other majors have been played at Pinehurst—except for the 1974 PGA Championship. That was played right on Tanglewood's Par 72 Championship Course.
10. Pine Needles in Southern Pines hosted the 1996, 2001, and 2007 U.S. Women's Open. The late Peggy Kirk Bell, an LPGA legend, also founded America's first golf school for women (Golfari) at Pine Needles.
11. Speaking of women's golf—Michelle Wie remains one of the sport's biggest names, but many are surprised to learn that her only major win to date came at the 2014 U.S. Open in Pinehurst.
12. North Carolina isn't just home to some of the world's best courses; it's also home to some of the world's longest holes. The biggest of them all is the 18th hole at Farmstead Golf Links in Calabash, a Par 6 behemoth that stretches a staggering 767 yards from tee to cup. (Golfers actually tee off in South Carolina before sinking their putt in North Carolina.)
Be the first to know
Get local news delivered to your inbox!