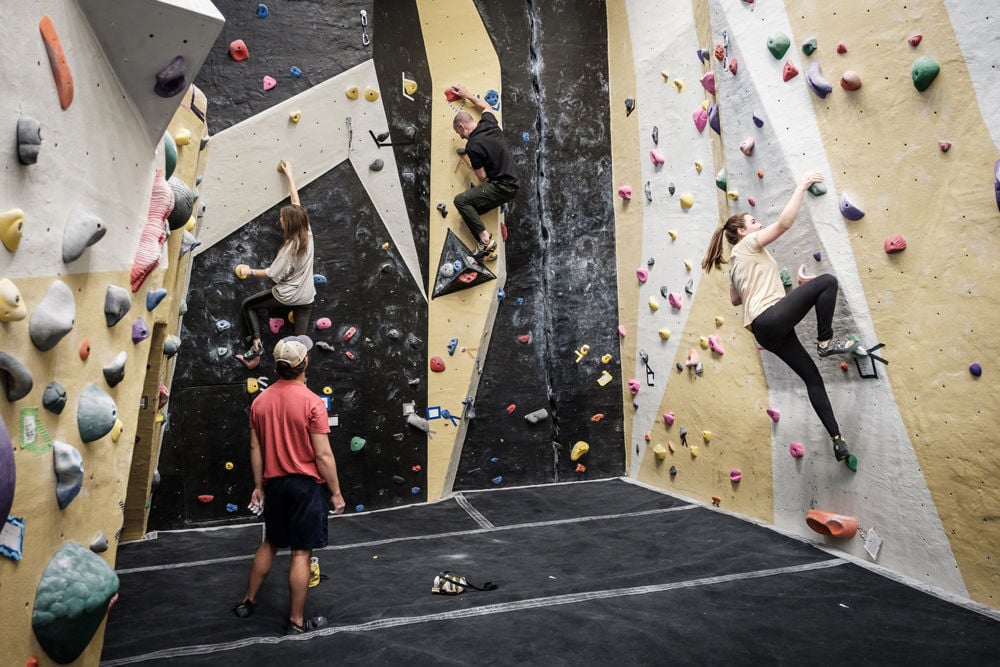 Ask any Wake Forest student how they felt about Reynolds Gym a few years ago, and you'd hear a similar theme: The 60-year old facility was outdated, oddly configured, and generally unwelcoming. Wake students wanted something more modern and dynamic—a place that wasn't just for exercising, but one that could foster health on a holistic level and create a greater sense of community.
Consider that wish granted.
When students return this semester, they'll have access to a completely renovated Reynolds Gym after a $60 million makeover that wrapped up this spring. The project, which was carried out in three phases, was funded by gifts to the Wake Will Lead campaign. The overriding goal, officials say, was to transform the historic facility into a comprehensive space for well-being. (In fact, the gym is now known as the Wake Forest Wellbeing Center.)
"(The renovation) to Reynolds Gym further distinguishes Wake Forest as a leader among universities," says Vice President for Campus Life Penny Rue, who swims laps four or five times a week in the recently reopened aquatic center. "We knew we wanted this space to be morethan a gym."
Phases I and II: Creating a holistic hub
The Sutton Center, a two-story addition to the gym completed in 2016, was the first of the project's three planned phases. The facility was named for Wake alumnus and IMG College founder Ben Sutton, one of the school's leading benefactors. With 46,000 square feet for fitness programming and campus activities, including two full-sized multi-use courts, the Sutton Center is connected to Reynolds Gym by a floor-to-ceiling atrium. The Outdoor Pursuits office, which sponsors adventure trips and rents outdoor equipment, is on the lower level.
Meanwhile Phase II renovations wrapped up last August, adding new state-of-the-art fitness equipment, a 3,000-square-foot open living room, a bouldering and climbing wall, and fitness space for weight training and other activities. Phase II also expanded the footprint for Wake's Student Health Service to include new offices and meeting rooms. WFU's volunteer, student-run Emergency Medical Services has a new home on the ground floor as well.
All the work was carried out by Winston-Salem-based Frank L. Blum Construction, which admittedly had its hands full trying to remake the historic structure. Built in 1954, the gym featured bi-levels and not many windows, making it difficult to create a space with an abundance of natural light. To remedy this, contractors added steel infrastructure to the existing building to create more open spaces and changed exterior brick walls to glass in parts.
"From a structural standpoint, it's a complicated building," said Will Smelcer, a project executive with Frank L. Blum, after the Phase II renovations. "We had to rebuild the interior structural components to open up larger spaces and bring the building up to current building code requirements."
Phase III: Making a splash
A new 25-yard, eight-lane pool surrounded by glass walls and three-story arched windows is the centerpiece of the third and final phase of the transformation. Renovations on the pool began in July 2016, as construction crews removed bleachers in the aquatic area to widen the pool, expand the deck, and create access hallways.
From the main entrance to Reynolds Gym, a half-flight of stairs leads to an informal gathering space with cozy furniture that overlooks the pool, and one more flight down leads to the pool entrance. Three-story windows bring ample natural light into the aquatic area, and solar panels help heat the water. One end features a diving board while the other has a large whirlpool in the shape of the university logo.
Phase III also added multipurpose rooms that provide practice space for many of the university's 35-plus club sport teams and organizations, ranging from fencing to mixed martial arts to dancing to wrestling.
The third floor is now home to various campus recreation offices, as well as conference rooms and even more training areas.
Meanwhile, Phase III also added exercise studios on the second floor for classes such as Zumba, cross training, and high-intensity interval training. Among the new spaces is a mind/body studio that's home to a barre and a yoga wall; a mat room with wall-to-wall mats that can be unfolded for wrestling, martial arts, or other practices; and a cycle studio and large group exercise space that features cutting-edge audio/video technology to allow virtual instructors to teach classes.
Phase III also led to a total renovation of the top floor of the Wellbeing Center, which is home to the WFU's varsity women's volleyball team. The area was revamped with a new volleyball court, custom lockers, a kitchen/nutrition area, retractable bleachers, a new video board, and an upgraded sound system.
With renovations now completed, the Wellbeing Center is open to all Wake Forest students, faculty, and staff, along with their spouses/partners and dependents (ages 18-26). Members can buy daypasses for anyone older than 16, and guests staying on campus or at Graylyn can also access the gym. Mia Harris, a 2018 Wake graduate, summed up the feelings of the WFU student body, saying the renovations have created a space everyone can now be proud of.
"With this facility, every time I walk in here I smile," she says.
"I just love it. It motivates me to come back each and every time."
Winston-Salem Journal staff writer Fran Daniel and Cheryl Walker from Wake Forest University contributed.
Be the first to know
Get local news delivered to your inbox!