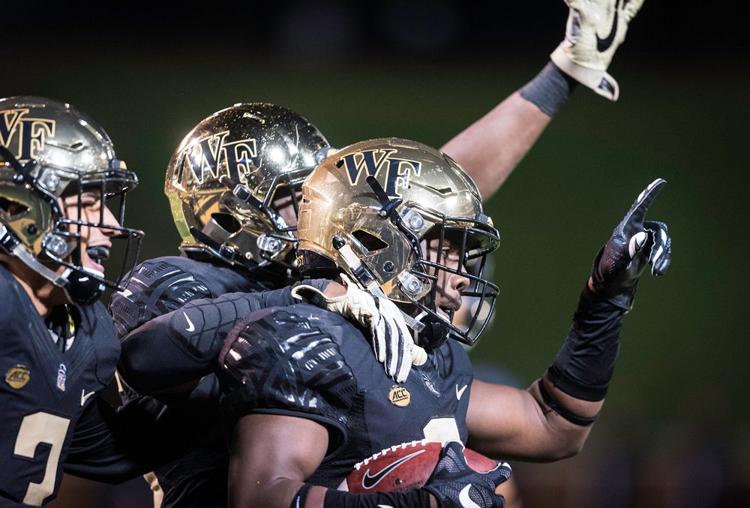 One of the most popular tropes in sports these days is "Trust the process." On ACC media day last month, there it was, coming from Wake Forest senior defensive lineman Wendell Dunn when asked what he's learned in his three-plus seasons under fourth-year head coach Dave Clawson.
"Coach came in my freshman year saying, 'The process, the process, the process,' " says Dunn, who admitted his skepticism at first. "But now it's unfolded like crazy for me, and I preach that to the freshmen all the time. Don't fight it. The sooner you let it happen and buy in, it unfolds."
He's right, sort of. The first two years of the Clawson era were identical 3-9 seasons, in which the Deacs also went 1-7 in the ACC. But last year, the team turned a corner, finishing 7-6 overall and 3-5 in the conference en route to a Military Bowl victory over the No. 23 Temple Owls. It marked Wake's first bowl victory since 2008, which was also the last year the Deacs had a winning record.
"I think the next step in the process is, we don't want people to be surprised when Wake Forest goes to a bowl game," says Clawson. "It's about raising the expectation level within our program, but also, to a degree, how [the media] perceives us."
Let's see about that. Athlon Sports, which produces those shiny preseason college football annuals, has the Deacons in the bottom half of the ACC's Atlantic Division, with a forecasted 6-6 overall record. Las Vegas isn't on board, either. According to Bovada Sportsbook, Wake Forest has 200/1 odds to win the ACC title this season.
The bottom line is that perceptions haven't changed yet—and maybe they shouldn't. This is still season four in Clawson's four-year plan to turn around the program. But there are reasons for optimism.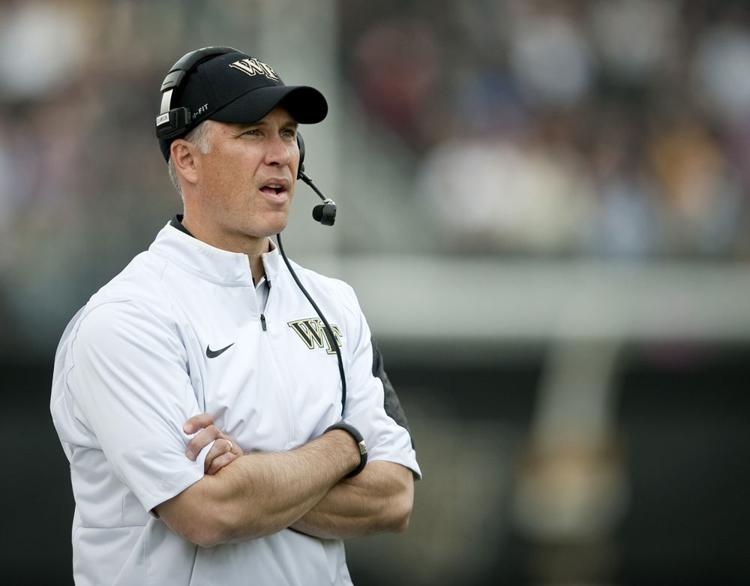 Clawson noted that liberal redshirting over the past couple of years has yielded "a lot of fourth-year juniors and third-year sophomores." This year's team has just nine seniors, but this is the first season Clawson has had more upperclassmen than underclassmen on his depth charts.
New defensive coordinator Jay Sawvel is another boost. He's taking over for former coordinator Mike Elko, who departed for Notre Dame. Sawvel is regarded by the college football cognoscenti as one of the best, if not the best, new coaching hire in the ACC. He spent the past six seasons at Minnesota, where he had tremendous success as the Gophers' defensive coordinator. He'll take over a Wake defense that features several returning standouts, including Dunn and fellow DE Duke Ejiofor, and ranked among the nation's top 25 in scoring defense, yards allowed, sacks, and turnovers.
Defense, however, hasn't been the problem on Clawson's watch. He conceded that the defensive talent he inherited three years ago was better than the offense. "We have played, at times, conservatively to make sure our defense wasn't going to play too many snaps. That was the way to stay in games."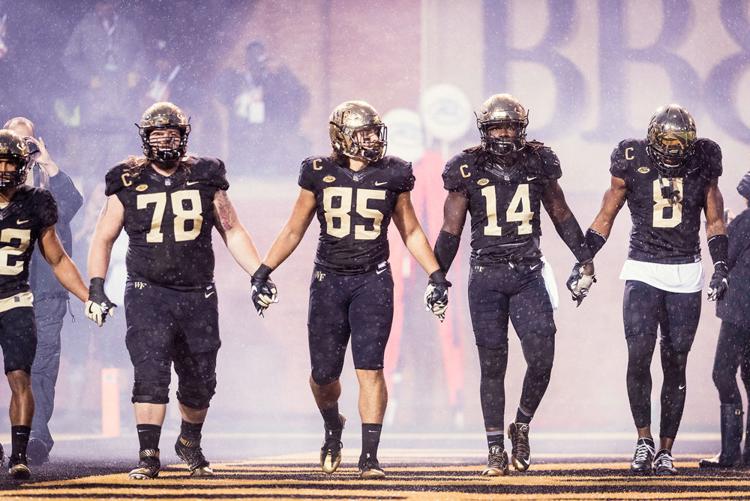 Not anymore. Clawson said having older offensive players this year allows offensive coordinator Warren Ruggiero to be creative with play calling because they have the experience to do more.
That's the plan, anyway. Like every other big-conference head football coach, Clawson knows having a plan is just the half of it.
"We're certainly further ahead than we've ever been, but it's no different than a year ago," says Clawson. "I can get up here and say we're better, but until we do it, it's just words."
---
Extra Points | Three things to look for this season
Which QB steps up? Speedy junior Kendall Hinton won the starting job last year but was replaced by former starter John Wolford midway through the season due to injury. Hinton looks to be the starter heading into fall practice, but he'll be pushed every day by Wolford, who's known as a more polished passer.
Can the offense improve? Wake returns a ton of experience on offense, including two impact running backs, seven experienced o-linemen, and their top eight receiving targets. They'll look to build on last year's underwhelming output, in which the Deacs tied for last in the ACC in points per game (20.4).
Is Clawson's fourth year the charm? Fun fact: Dave Clawson-coached teams typically make a huge turnaround in year four of his coaching regime. At his previous three universities (Fordham, Richmond, Bowling Green), his teams were 10-25 in year one and 29-11 by year four.
Wake will play two games at BB&T Field this month, including a homecoming game against Utah State (9/16) and an ACC matchup with Florida State (9/30). For tickets, call 336-758-3322 or go to wakeforestsports.com.
Be the first to know
Get local news delivered to your inbox!