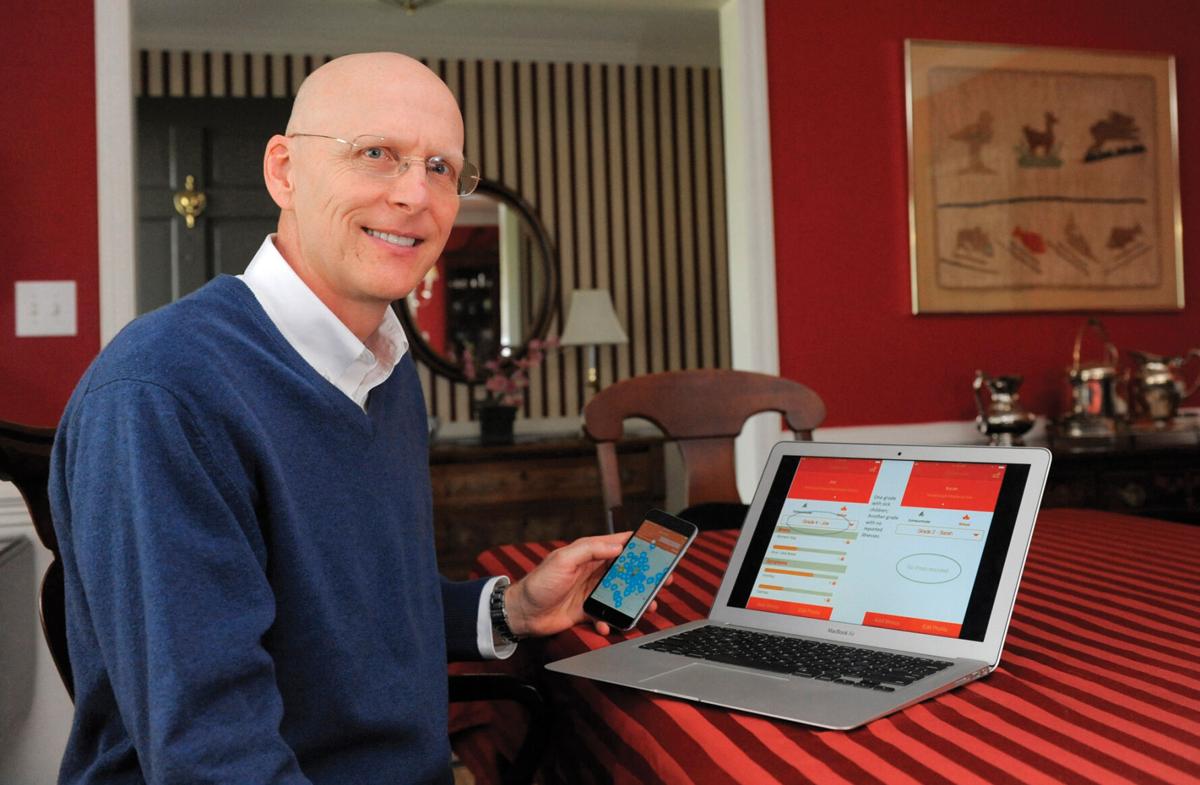 Moms everywhere should breathe a collective sigh of relief thanks to Bill Satterwhite, a Winston-Salem pediatrician. Satterwhite is the brain (and creative energy) behind Sneez technology — an app and web-based tool developed to improve the health of children and the community at large.
In 2015, Dr. Satterwhite, who calls himself a "nerdy attorney who became a doctor," put on another hat when he became the first chief wellness officer at Wake Forest Baptist Health. His goal was to help avoid sickness and chronic illness, and become more efficient at wellness.
"For about 10 years I was seeing a lot of sick children," says Dr. Satterwhite. "I thought there had to be a better way to help children and parents."
Brainstorming sessions with a team of developers, health care providers, and investors led to the invention of the free Sneez mobile app that anyone can download. The app launched in fall 2016 and the war on germs was on. Success was swift and by spring 2017, 90,000 symptom entries were reported with 15,000 regular users.
Investors have been quick to the table and the group continues to gain traction with potential backers. Grants from the National Institute of Health and Center for Disease Control (CDC) keep the future looking bright and opens the door for the development of other tools, such as one aimed at mental health.
The user-friendly Sneez app is color-coded — showing the areas with the most cases versus the least by zip code. Parents can find out where outbreaks of the flu are the worst and where doctors are diagnosing strep, allergies, asthma, and other illnesses by symptoms. A drop-down menu lets users create a profile of their household history and report symptoms like vomiting (and others) with an emoji.
The onslaught of a pandemic in March influenced the Sneez group to take the concept one step further and add COVID-19 mapping to the app, a tool called SneezSafe.
"Due to COVID-19, everyone benefits from knowing where infections are occurring," Dr. Satterwhite says. "Parents are happy about the app and our COVID-19 mapping tool, as well as cancer patients and other groups who are more susceptible to infection."
SneezSafe is also being used by businesses, universities, and organizations. SneezSafe is separate from the Sneez app and can be used on any device — mobile, laptop, tablet, and by QR code. To date, the symptom survey tool is in use with 15-plus companies in the Winston-Salem area including Wake Forest University, Richard Childress Racing, Flow Automotive, and others.
"The screening tool is designed to help employers, universities, and other organizations bring employees and students back safely to work and school," he says.
The screening process for SneezSafe is simple and fast. Users get a text message to check in before going to work (process follows the CDC guidelines). The NASCAR group gives employees a green flag to proceed to work and a red flag if an issue occurs with the incident date and time. If symptoms are reported, the user is flagged for a conversation with a health care provider within minutes.
The tool can even be customized to connect symptomatic employees and students with the most appropriate and accessible care providers — a feature Satterwhite calls the "easy button." At WFBH, the easy button makes a real-time connection to triage nurses for those flagged by the survey tool. At Wake Forest University, students are routed to the onsite nurse.
SneezSafe also has the ability to sub-divide a company or school into distinct groups to better track symptom outbreaks (which typically precede a positive COVID-19 test) such as a football team like the Demon Deacons, soccer players, and other similar groups.
"These tools let employees know if they can go to work and if students can go to school," Satterwhite says. "If widely deployed, it would have a huge impact on living life in a more normal way."