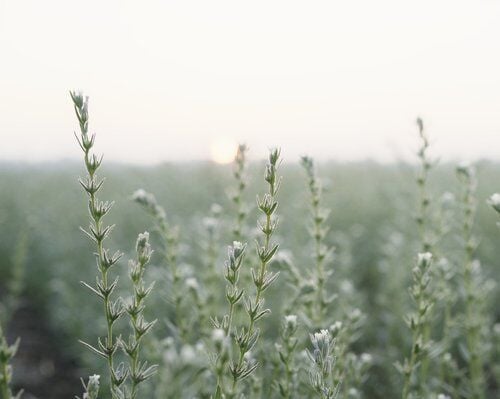 At first glance, Ahiflower looks like a weed. There's a good reason for that.
"We actually found the wild plant growing in a hedgerow in the U.K.," says Andrew Hebard, president and CEO of Nature Crops International (NCI), a company headquartered in Winston-Salem.
Ahiflower turned out to be a weed with potential. A team of plant experts hired by NCI found it as part of a quest for an alternative to fish oil.
"We did an Indiana Jones type of number," Hebard says. "We recruited people to travel around the world — they're called ethnobotanists."
Oil made from Ahiflower provides a good source of omega-3 fatty acids, an important nutrient. Omega-3s have been proven to reduce the risk of heart disease and stroke, ease joint pain and stiffness, and make anti-inflammatory drugs more effective, according to WebMD. They boost the visual and neurological development of infants, and may also help reduce depression, prevent Alzheimer's disease and dementia, and reduce the severity of asthma and ADHD.
Fish provide the readiest source of omega-3s, but not everyone wants to eat fish or use dietary supplements derived from them. Some people don't eat fish for ethical reasons. Some don't like the taste. Some, like Hebard, have concerns about the long-term effect of fish harvesting on the environment: "A particular passion of mine is ocean health and wellness, ocean abundance."
Hebard moved to Winston-Salem from his native England in 2002 to work with Pilot Therapeutics, a company trying to develop a nutritional supplement for people with asthma. That project didn't pan out, but Hebard bought the company, renamed it, and took it in a new direction.
"We focused on one specific area, which was specialty oils with attributes to make you move well, feel well, and look well," he says.
That work has included years of research that led to the production of Ahiflower oil.
"We started looking for a plant that could produce all the health benefits of fish oil," Hebard says. "The reason for that is that every cell in your body — every cell in my body — contains omega-3s, and there isn't a human being out there that can make them. So we have to get them from our diets."
NCI has contracted with farmers in England to grow Ahiflower on a large scale in its native habitat. The weed that once popped up along hedgerows now covers thousands of acres in the UK.
"Now the challenge is how to scale up crop production globally," Hebard says.
Trials have been conducted in the United States, New Zealand, and Canada to expand the crop beyond England if demand starts to outpace the current supply.
Other companies use Ahiflower oil to make nutritional supplements, which are widely available at Whole Foods, The Vitamin Shoppe, and independent health food stores. It's an ingredient in CatchFree Omega products, launched in 2020 by Ohio-based Wiley's Finest. Ahiflower oil allowed the company to fulfill requests from vegetarians and vegans for a plant-based source of omega-3s, according to Sam Wiley, CEO of Wiley's Finest. Flaxseed oil provides some of the same benefits, but Ahiflower oil goes a step further in terms of nutritional benefits, he says.
It also tastes better than flax oil, which has a strong smell that has been likened to paint.
"Nature's Crops did a wonderful job of making a really, really clean, deodorized, stable oil," Wiley says. "It has a light, nutty flavor — it just tastes so much better than flax oil."
Wiley appreciates the enthusiasm Hebard and his team has for their work.
"It's a passion project to take novel sources of healthy fats, of omega-3s, from land-based sources, and to commercialize them," he says.