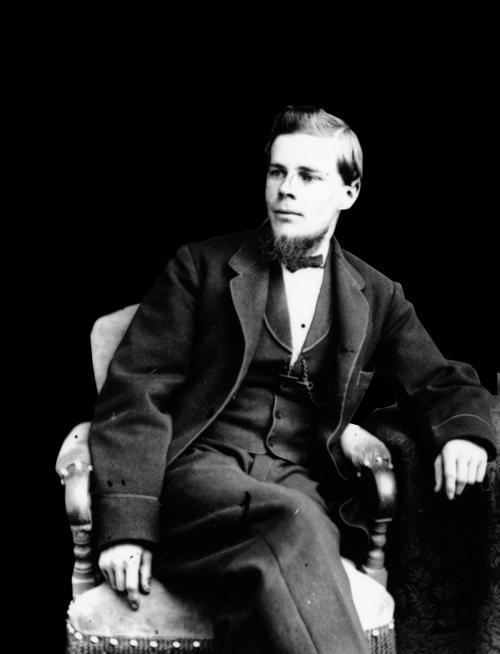 Born: March 17, 1839, in Salem, North Carolina.
Died: Dec. 30, 1932, in Winston-Salem, North Carolina.
Known as: One of the Twin City's most prolific career photographers, including his photography work during the exhumation of conjoined twins, Eng and Chang Bunker.
"What is taken from you before you get it?" riddled the People's Press newspaper in Salem on July 25, 1872.
The editor may have been inspired by Henry Leinbach, one of the first, and possibly the most prolific photographers in Salem. Many of the earliest photographs, both of people and of Salem and Winston, were taken by "H. A. Lineback, Photographer," as he spelled his name on all professional and many church and personal documents. His was not the first photography business in Salem but was "the first homegrown photographer of Forsyth" according to Michael Bricker in his book "Historic Forsyth County."
For more than half a century he documented the people and places of Forsyth County.
The youngest of Salem's shoemaker John Henry and Elizabeth (Schneider) Leinbach's six children, Leinbach would live his entire life in the house he was born and died in on Salem's Main Street. He chose to learn cabinetry as a child, but it's obvious that from an early age his passion was photography. His uncle, Traugott Leinbach, maintained a "photographic gallery" on the third floor of his house. Tradition maintains that Henry got his first photographic equipment, and possibly training, from Traugott. He traveled to Philadelphia after the Civil War to learn the trade.
When he returned to Salem in 1868, the town's development was still under the authority of the Moravian church leaders. Leinbach requested and was granted permission from them to construct a photography studio on the north end of his father's house located on Main Street. There, with the help of his assistant-turned-wife, Susan Elizabeth James, he offered portraiture work but also sold "elegant frames" he crafted, putting his cabinetry apprenticeship to work. In 1874, he was tagged to photograph the exhumation of Eng and Chang Bunker, the original Siamese twins. By 1880, he had gained a local reputation for creating "exceptional portraits" and "stereoscopic views" of buildings in the region.
The Western Sentinel lauded his work in December 1885, as up-to-date and "his art work, in tone, in finish, arrangement of drapery, in pose" being of such quality "we can unhesitatingly refer to him as an Artist." In 1890, he moved his studio to the more populous Winston town at 103 1/2 W. Fourth St., continuing until his retirement in 1922 at the age of 83.
Be the first to know
Get local news delivered to your inbox!