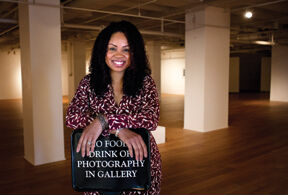 Endia Beal tells the stories of two women she's featured in an upcoming photography book — and really, they're the same story. Both had to change their names to get job interviews. Both have had to navigate the same microaggressions that women of color face every day in the workplace.
"How do Black bodies exist and thrive in a place that was never designed for us?" asks Beal.
That's the driving thesis behind her new monograph, "Performance Review," due for release next month. It unveils the first-hand experiences of over 65 women of color and the challenges they face in the corporate workplace; women who then took a risk by sharing their personal stories with her.
Beal sees these stories, and her whole body of work, as revealing these untold yet universal truths. Truths that, as the nation battles continued social injustice, she knows are as timely as ever.
"I hope they see the humanity in the work," she says. "I hope they are open to trying to find themselves in the photographs."
Beal reveals she first found herself in art as a UNC-Chapel Hill undergrad. Her "Intro to Photography" professor showed a James Van Der Zee photo of a Black woman in her living room surrounded by flowers.
"It was just a simple portrait, but it was the first time that I had ever seen a piece of art that just reflected my life. … It could've been my grandma, my aunt, my cousin," she says. "There was just something really inspiring about seeing myself in that photograph."
Beal, a Winston-Salem native, says that as a kid she loved art, but didn't know a lot about the possibility of what she could do with it as a career. Most of the people doing that work didn't look like her. She once told SECCA she didn't even know they existed as a child. (Now, her art has been featured there.)
But after being the only Black student in her Master of Fine Arts program at Yale University, she recognized an even greater need for systemic change.
So she dedicated herself to creating opportunities for students to see themselves in the artwork. This work carried her to Winston-Salem State's Diggs Gallery, where she served as director and crafted exhibitions that represented the experiences of her students.
Locally, she's curated community art exhibitions, served on multiple art boards, and was even inducted to the RJ Reynolds Art Hall of Fame in 2017 (a school she graduated from herself). Beal's art is internationally known. She's a photographer, an educator, an award-winning curator, an activist; a mother.
And in 2018, she was selected as one of the prestigious Center for Curatorial Leadership (CCL) fellows. It was during that program she found her why.
"I realized that my work can create real social change. My vision can impact social evolutions," she says. "I just so happen to be a woman. I just so happen to be Black. And this book focuses on human experiences of fears, of insecurities, of experiences."
"Performance Review" highlights the challenges for women of color in the corporate workplace. It is set to be released this November.
Be the first to know
Get local news delivered to your inbox!