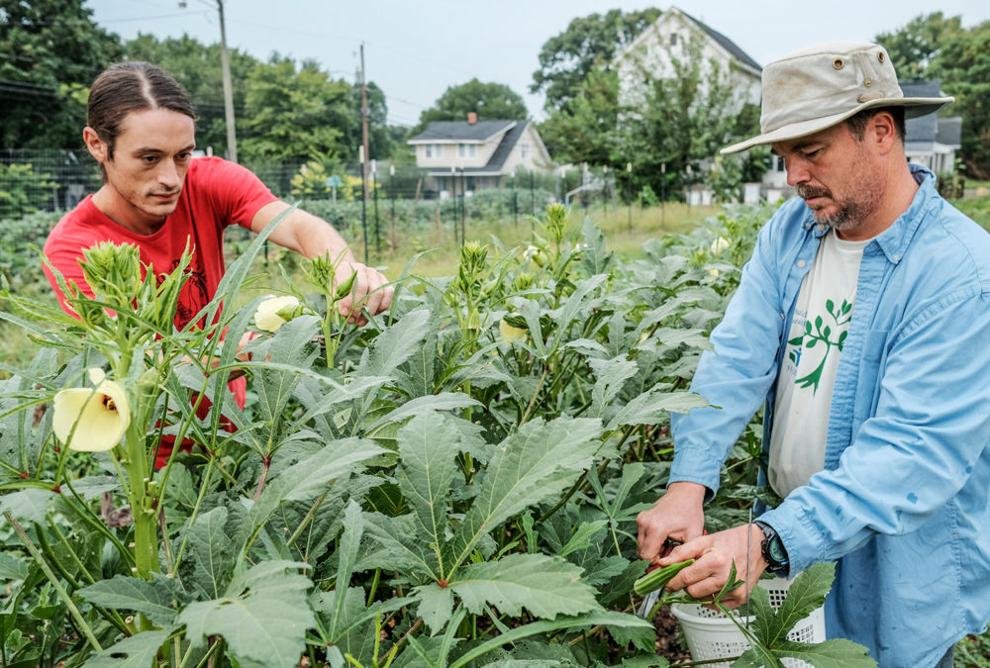 The corner of Apple and Green streets holds a lush, unexpected surprise. Bees pollinate brilliant sunflowers that tower above an assortment of thriving tomatoes. Cucumbers climb amid rows of eggplant, parsley, turnips, and candy roaster squash.
Apple & Green City Farm encompasses a little more than an acre at 919 Apple St. SW, with two-thirds in cultivation by owners Matt Mayers and Sam Shapiro. Every inch counts.
"It's been an interesting progression," says Shapiro, who harvests in the morning before teaching dance at nearby UNCSA.
Krankies Coffee began the garden three years ago to supply its kitchen with fresh vegetables. Eventually Krankies chose to step back from production, yet Mayers and Shapiro, a longtime volunteer, decided to keep things growing.
"We owe [the Krankies staff] a huge debt of gratitude for getting the garden started," Mayers says.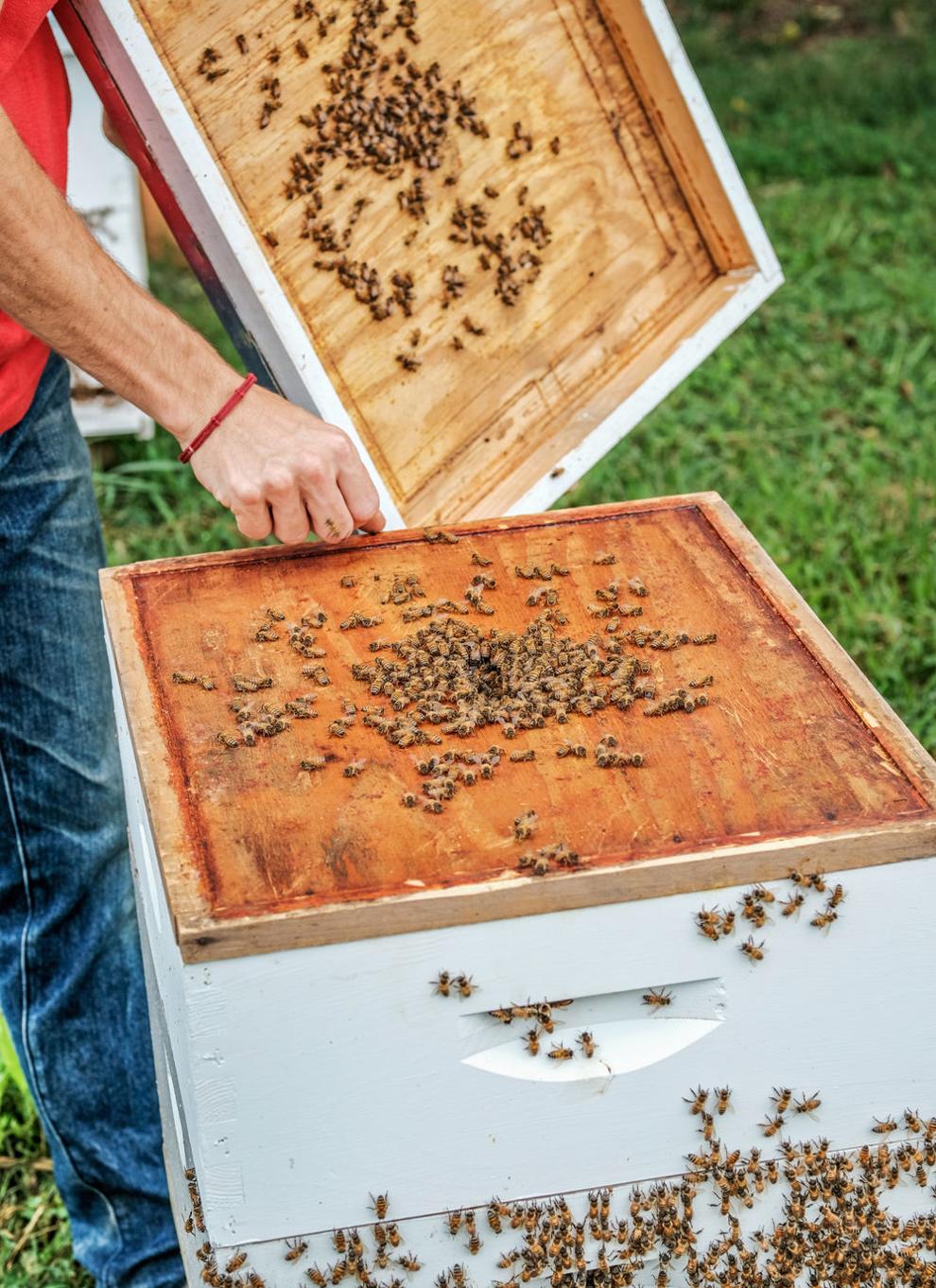 Back in early 2016, Apple & Green Farm was permitted as the first urban farm under the Winston-Salem City Urban Agriculture zoning ordinance, according to Mary Jac Brennan, an agent with Forsyth County's North Carolina Cooperative Extension.
"The farm is a good neighbor in the West Salem community," she explains. "They bring experiences of farming into the neighborhood. Many people will never step foot on a rural farm, but by having [Apple & Green] in the middle of the neighborhood, more and more people can appreciate the work that goes into farming produce."
To choose their crops, Mayers and Shapiro meet with clients and ask them what vegetables and herbs they need and how much they want per week. For example, Mooney's Mediterranean Café buys eggplants and large slicing cucumbers, and Krankies still purchases its collards from the farm.
Perhaps just as important as the food that's produced at Apple & Green is the community the garden creates.
"We were trying to figure out how we can better serve the community and how to build more community equity," Shapiro says. "There's no fences or walls here. We never want to do that."
Neighborhood kids spend time in the garden, says Rebekah Downing, another longtime volunteer who's now restoring a home in the area. "We hope that it's making an impact in the neighborhood," she says.
Other volunteers, such as Sandy Tilley, stop by to harvest, weed, and mow when needed. She mowed the property before it was a garden, she says, and she now continues to mow on a volunteer basis. "I always like to help, whatever they need done," she says. Volunteers receive produce, as do neighbors in need.
Adam Taylor, who works for the WS/FC Arts Council as assistant production manager, was drawn to the garden shortly after moving to the neighborhood less than a year ago.
"I love volunteering here, working outside with cool people," Taylor says. "For me, it provides a strong incentive to stay in the neighborhood. I have gotten to know more of the neighborhood by being out here."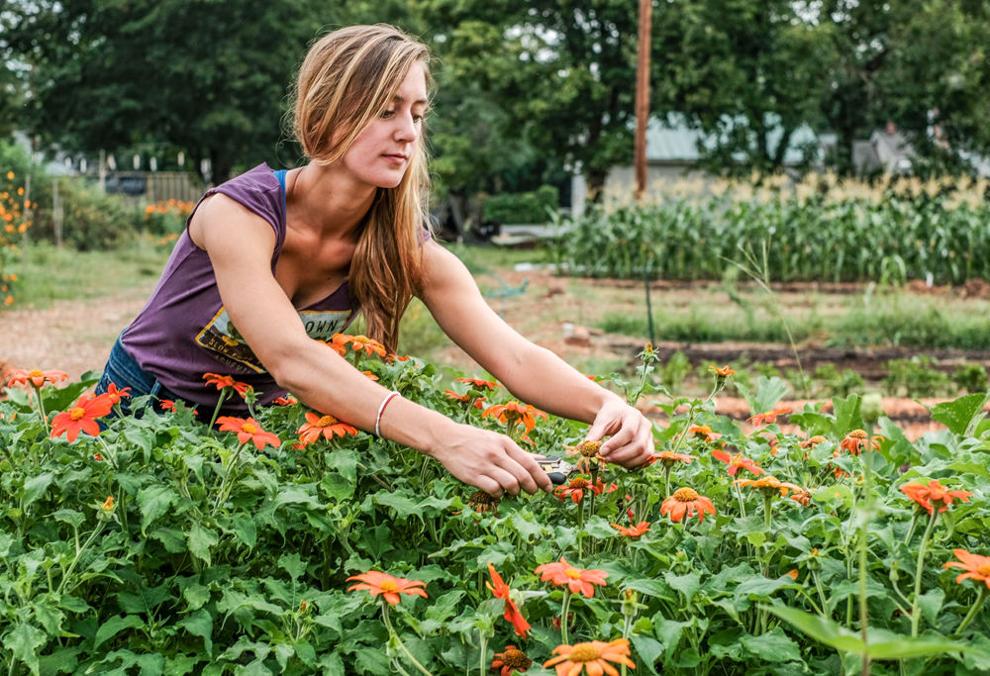 Volunteers also learn about proper soil management and conservation. Leaf mulch and composted wood chips snuff out weeds and hold in moisture in the garden, while fertilizer, which is made from chicken manure, enriches the soil.
"We try to leave the land better than it was before and just be a responsible steward for the environment and lead by example," Shapiro says. "A natural progression is people have wanted to start their own gardens around here."
To that end, Shapiro and Mayers have given away their excess plants to neighbors to help them start gardens.
"We really want to inspire our neighbors and say, 'Growing produce is hard work, but we're willing to collaborate and help you along the way,'" Shapiro says.
After all, he says, that's what being a community garden is all about.